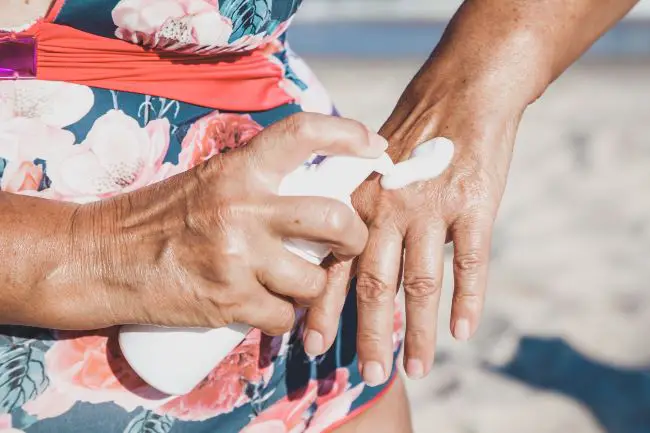 Choosing the right sunscreen is a big factor in our enjoyment of the sun, but how do we find the best one for women over 60? While most sunscreens are promoted for fun in the sun, it's also important to wear them everyday—and if you're a woman that means any sunscreen must work with your makeup. And because we wear them every day the active ingredients are under greater scrutiny.
In addition to SPF and UVA/UVB protection you also have a choice between what are broadly called chemical and physical/mineral sunscreens.  Each of these protects your skin differently and contains different active ingredients.
Chemical sunscreens protect by absorbing the sun's rays
Chemical sunscreens may contain one or more of many possible active ingredients, including oxybenzone and octinoxate. Those two are currently approved by the U.S. FDA but may have some negative health or environmental effects—they are banned by Hawaii.  Chemical sunscreens are popular because they tend to be easier to rub into the skin without leaving a white residue like many mineral sunscreens. Safer formulations are always in development to meet market demands for "clean" products.
Physical/mineral sunscreens deflect the sun's rays
Mineral sunscreens, also known as physical sunscreens, work by blocking the suns rays from you skin. They contain the active ingredients titanium dioxide and/or zinc oxide. The European Union has questioned the safety of titanium dioxide. However, the Environmental Working Group (EWG), a non-profit, non-partisan organization dedicated to protecting human health and the environment, and most dermatologists recommend physical sunscreens.
Some sunscreens use both types of active ingredients
Hybrid sunscreens contain one or more active ingredients found in physical sunscreens as well as chemical sunscreens. While this may seem like a "pick your poison" quandary, wearing no sunscreen is far more dangerous.
_____
_____
We looked at a wide range of sunscreens to find those that would meet our criteria:
Minimum SPF 30
No (or limited) oxybenzone and/or octinoxate (for chemical sunscreens)
Must have zinc oxide, but must not have titanium dioxide alone
Positive EWG rating (lower numbers = higher score)
Positive user reviews
Easily available online or in retail stores
Value Brands
Banana Boat Dry Balance Broad Spectrum Sunscreen is one of the few chemical sunscreens available with no oxybenzone or Octinoxate. It is good for both face and body and is good under makeup.
Reviewers on a variety of sites report that it doesn't cause breakouts. It isn't greasy or sticky. It absorbs excess moisture, leaves a soft matte finish, and lets skin breathe – so your skin feels fresh, dry and comfortable. Easily available.
4.8/5 stars on Amazon; EWG rating: 5/10; available on Amazon.com
Coppertone Defend & Care Oil Free Sunscreen Face SPF 30 is a broad spectrum chemical sunscreen that protects against the sun's most damaging UV rays. It  and won't clog your pores. It is good for use under makeup and it's fragrance-free. Octinoxate free. The SPF 30 includes 4% oxybenzone, the SPF 50 includes 6% oxybenzone.
4.1/5 stars on Amazon.com; EWG rating: 3/10.  Available on Amazon.


Blue Lizard Baby SPF 30+ mineral sunscreen has no skin-irritating fragrances or parabens. It is is pediatrician-recommended, but many adults use it, too.
Unlike many mineral sunscreens it is not greasy and is water resistant for 40 minutes.  Blue Lizard is an Australian manufacturer, the land where they know sun.  Good for the body, it leaves no white cast and is highly protective.
4/5 stars on Amazon.com; EWG rating: 1/10 (best possible score).  Available on Amazon.
MyChelle Dermaceuticals Sun Shield is an unscented, mineral-based sunscreen with aloe and Vitamin E for face and body.  The company maintains that the product uses translucent zinc oxide and titanium dioxide that don't leave a white cast but rather a smooth, matte finish.
Zinc oxide and titanium dioxide provide a safe alternative to harsh chemical, heat-absorbing sunscreens.  This is for daily use. The company suggests allowing the product to absorb completely before applying make-up.
4.5/5 stars on Amazon.com; EWG rating: 2/10.  Available on Amazon.
Baby Bum SPF 50 Sunscreen Lotion is a 100% mineral-based that applies easily to the face and body with a non-oily feel.  Since this is a sunscreen for young children, its formula is particularly pure and therefore ideal for all age groups, particularly those with sensitive skin.  The plant-based formula provides UVA/UVB protection and contains natural zinc oxide, coconut oil, shea butter and cocoa butter to nourish and hydrate all skin types. It is vegan, cruelty, gluten and dye free. It is pediatrician and dermatologist tested and paraben, sulfate, silicone and phthalate free.  The company's slogan is "Trust the Bum'.
Amazon rating: 4.8/5; EWG Rating: 2, available on Amazon.
_____
_____
This is a tinted mineral sunscreen for the face that is good under makeup or even as makeup since it's tinted.  It does not cause breakouts, according to reviewers, and does not leave a white cast on the skin.
5/5 rating at dermstore.com; EWG rating: not rated.  Available on Dermstore.com
Biossance Squaline + Zinc sheer mineral sunscreen is a sheer, safe 100% non-nano, nontoxic SPF 30 zinc mineral sunscreen that provides invisible, broad-spectrum coverage and high UVA protection.  It is a lightweight and deeply hydrating clear sunscreen lotion that blends well with all skin tones without leaving a trace. It contains zinc oxide that protects the skin's outer barrier to reflect damaging UVA/UVB rays. Derived from sugarcane, squalane provides deep and fast-absorbing moisture while water lily cools and calms skin.
4.4/5 stars on Amazon.com; EWG rating: 1; Available on Amazon.
Umbra Sheer Daily Defense by Drunk Elephant is a physical daily sunscreen loaded with potent antioxidants that delivers essential moisture to minimize the appearance of fine lines and wrinkles.  Drunk Elephant products are designed, tested, and made in the United States.  This sunscreen contains 20% zinc oxide and astaxanthin-rich algae extract, which has potent antioxidant properties that provide defense from oxidative damage.
4.2/5 on ulta.com; 4.1/5 stars on amazon.com; EWG rating: not rated; available on Ulta and Amazon. 
La Roche-Posay Anthelios Mineral SPF 50 Sunscreen is a 100% mineral sunscreen with zinc oxide and antioxidant protection for the face.
Non-whitening, with a smooth, velvety finish that sinks into the skin quickly and evenly. Weightless texture, matte finish. Suitable for sensitive skin.
5/5 stars on Dermstore.com; 3.4/5 stars on Amazon.com; EWG rating: 3/10. Available at Dermstore.com;  Walmart; and Amazon.
_____
_____
What about those "sunscreen" pills and supplements?
The FDA recently sent warning letters to four companies that were marketing nutritional supplements to prevent UV rays from damaging the skin. The FDA reports:
We've found products purporting to provide protection from the sun that aren't delivering the advertised benefits. Instead they're misleading consumers, and putting people at risk. … There's no pill or capsule that can replace your sunscreen.
The companies were instructed to remove such claims from their marketing materials.
As of the timing of this article, there is no known pill or capsule that can provide you with the sun protection you need alone, without a topical sunscreen.
*     *     *
This article first appeared in Blue Hair Magazine on May 26, 2021. It was updated on May 27, 2022.
As an Amazon Associate BLUE HARE earns a small commission from qualifying purchases of products in our articles, which helps us bring you more great information and ideas.
You might also like…
Find more health and beauty tips on BLUE HARE.