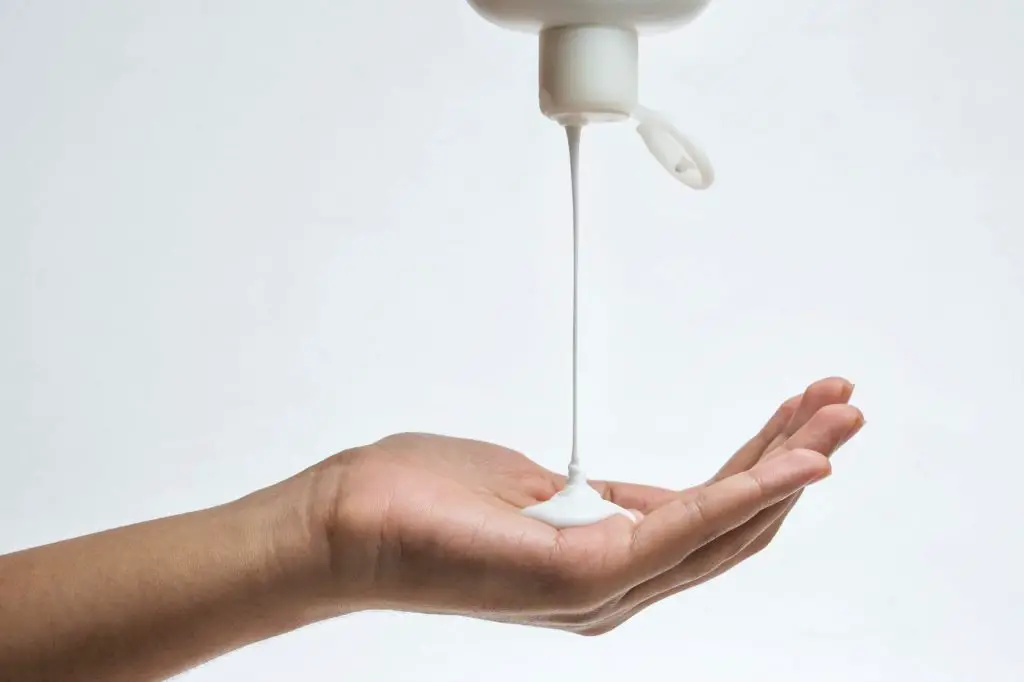 Choosing the right sunscreen is a big factor in your enjoyment of the sun, but how do you find the best one for you? While most sunscreens are promoted for fun in the sun, it's also important to wear them everyday—and if you're a woman that means any sunscreen must work with your makeup. And because we wear them every day the active ingredients are under greater scrutiny.
In addition to SPF and UVA/UVB protection you also have a choice between what are broadly called chemical and physical/mineral sunscreens.  Each of these protects your skin differently and contains different active ingredients.
Chemical sunscreens protect you by absorbing the sun's rays. They may contain one or more of many possible active ingredients, including oxybenzone and octinoxate; these two are currently approved by the U.S. FDA but may have some negative health or environmental effects—they were recently banned by Hawaii. These formulations tend to be easier to rub into the skin without leaving a white residue.
Physical/mineral sunscreens protect you by deflecting the sun's rays. They contain the active ingredients titanium dioxide and/or zinc oxide; the European Union has questioned the safety of titanium dioxide. The Environmental Working Group (EWG), a non-profit, non-partisan organization dedicated to protecting human health and the environment, and most dermatologists recommend physical sunscreens.
Some sunscreens use both types of active ingredients, so they contain one or more active ingredients found in physical sunscreen and chemical sunscreen. And while this may seem like a "pick your poison" quandary, wearing no sunscreen is far more dangerous.
We looked at a wide range of sunscreens to find those that would meet our criteria:
Minimum SPF 30
No (or limited) oxybenzone and/or octinoxate (for chemical sunscreens)
Must have zinc oxide, but must not have titanium dioxide alone
Positive EWG rating (lower numbers = higher score)
Positive user reviews
Easily available online or in retail stores
Value Brands
Banana Boat Dry Balance Broad Spectrum Sunscreen Lotion, SPF 50+
4.1/5 stars on Walmart.com; 4.1/5 stars on Jet.com; EWG rating: 5/10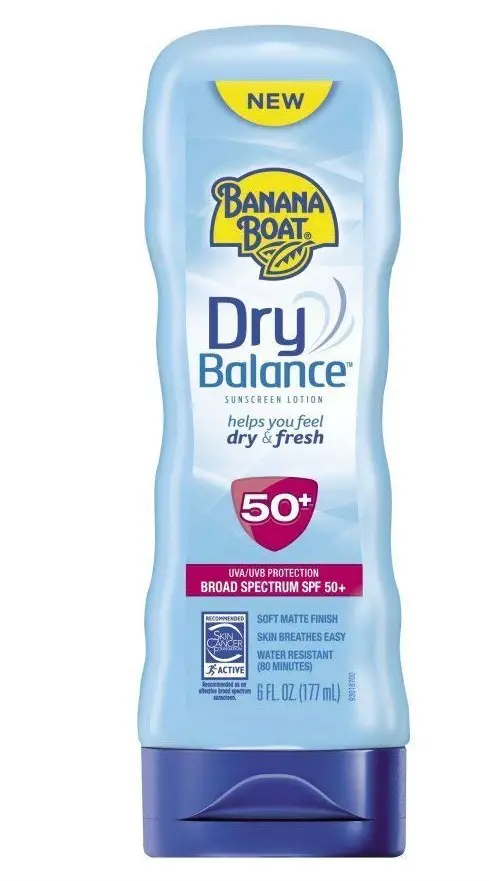 One of the few chemical sunscreens available with no oxybenzone or Octinoxate. Banana Boat Dry Balance Broad Spectrum Sunscreen is good for both face and body and is good under makeup. Reviewers on a variety of sites report that it doesn't cause breakouts. It isn't greasy or sticky. It absorbs excess moisture, leaves a soft matte finish, and lets skin breathe – so your skin feels fresh, dry and comfortable. Easily available.
From a reviewer: "I like that it feels dry like lotion, not sticky like sunblock. It has a beautiful light scent. It's a great lotion that has great sunblock power."
$6.65 on Jet.com;  $7.92 on Walmart.com; $18.99 (2-pack) on Amazon.com; prices vary at other online and retail stores.
Coppertone Defend & Care Oil Free Sunscreen SPF 30
4.1/5 stars on Amazon.com; EWG rating: 3/10
Coppertone Defend & Care Oil Free Sunscreen Face SPF 30 is a broad spectrum chemical sunscreen that protects against the sun's most damaging UV rays and won't clog your pores. It is good for use under makeup and it's fragrance-free. Octinoxate free. The SPF 30 includes 4% oxybenzone, the SPF 50 includes 6% oxybenzone.
From a reviewer: "[This sunscreen is] chemical based but the chemicals used are actually low toxicity. No Oxybenzone and no Octinoxate! It goes on smoothly without a greasy feel and gets absorbed quickly. I have sensitive skin that often limits what skin products I use but I've had no reaction whatsoever to this. There is a slight, sunscreeny smell but it's very faint."   
$7.99 on Walgreens.com
Blue Lizard Baby SPF 30+
4/5 stars on amazon.com; EWG rating: 1/10 (best score)
Blue Lizard Baby SPF 30+ mineral sunscreen has no skin-irritating fragrances or parabens and is pediatrician-recommended, but many adults use it, too.  Unlike many mineral sunscreens it is not greasy and is water resistant for 40 minutes.  Blue Lizard is an Australian manufacturer, the land where they know sun.  Good for the body, it leaves no white cast and is highly protective.
From a reviewer:  "First tried this as a sample from the dermo's office. Let me say right up front, I am not wearing this under makeup. This is my "gardening/mowing/doing whatever outside" sunscreen. I want it to stay put; I'm not concerned with cosmetic elegance. And it stays put! Some ladies perspire: I sweat like an overworked draft horse. It. Didn't. Budge. It isn't greasy, which a lot of mineral sunscreens are. It doesn't irritate my skin in the least, has no scent and I don't get burned, and don't get much tan. Can't ask for more than that. If your criteria for a sunscreen are like mine for this, then get this stuff. Love it to pieces."
$24.99 (for an 8.75 oz. bottle) on Amazon.com; multiple sizes available.
MyChelle Dermaceuticals Sun Shield, SPF 28
4/5 stars on Amazon.com; Consumer Reports score: 100 (best score); EWG rating: 2/10
This is an unscented, mineral-based sunscreen with aloe and Vitamin E for face and body.  The company maintains that the product uses translucent zinc oxide and titanium dioxide that don't leave a white cast but rather a smooth, matte finish.  Zinc oxide and titanium dioxide provide a safe alternative to harsh chemical, heat-absorbing sunscreens.  This is for daily use. The company suggests allowing the product to absorb completely before applying make-up.
From a reviewer:  "So I have been on an endless search for a sunscreen that will work on my very oily skin (e.g., want a matte finish, not a shiny or dewy finish), blend in with the tan color of my South Asian skin (without leaving a white/gray cast), and is a physical sunblock (that is also approved by the Environmental Working Group). I have found my holy grail!!! I happened to stumble upon this at Whole foods and it was on sale for $15. So far I'm very happy with it as it is matte, truly blends in leaving no color even though it comes out of the tube white, and my makeup looks nice over it. It is SPF 28 and while I was looking for an SPF 30 product, this is close enough as it is a physical sunblock which is much better for your skin than a chemical one. Great price, great tube, and I love the unscented version."
$16 on Amazon.com
Premium brands
Lancôme Bienfait UV SPF 50+ Super Fluid Facial Sunscreen
4.4/5 stars on Sephora.com; 4.5/5 stars on Google; EWG rating: 4/10
Lancôme Bienfait UV SPF 50+ is a fast-absorbing, oil-free facial sunscreen that delivers SPF 50+ protection to shield the skin from harmful UVA and UVB rays. The lightweight formula is perfect to wear daily over moisturizer, under makeup, or alone. Contains 6% oxybenzone but no octinoxate. Recommended by the Skin Cancer Foundation, this super fluid sunscreen is ideal for all skin types, even sensitive skin, and is dermatologist-tested for safety.
From a reviewer: "I absolutely love how this sunscreen feels on. It melts into my skin without feeling heavy or greasy (mature dry/normal skin here) and my makeup applies flawlessly on top. I have not burned or tanned since using this product and I live in a very hot, sunny location."
$40 on Sephora.com and Lancome-USA.com; available at Macy 's, Nieman Marcus, and other retailers.
EltaMD UV Elements Broad-Spectrum SPF 44 Tinted
5/5 rating at dermstore.com; EWG rating: not rated
This is a tinted mineral sunscreen for the face that is good under makeup or even as makeup since it's tinted.  It does not cause breakouts, according to reviewers, and does not leave a white cast on the skin.
From a reviewer:"I love this sunscreen. It isn't heavy, has no smell and blends in easily. This doesn't leave my combo skin greasy looking, irritate my skin and eyes or break me out. I also like their clear formula for acne prone skin but this is less drying and a tad creamier although still extremely light wearing. I don't get a white cast when wearing this. …  If I'm wearing alone or blended with bronzer I like to set this with powder, either silica or a tinted finishing powder if I want extra coverage for a nice dewy natural look. "
$33 on Dermstore.com
SkinCeuticals Sheer Physical UV Defense SPF 50
3.8/5 stars on Amazon.com; EWG rating: not rated
Skinceuticals Sheer Physical UV Defense SPF 50 Broad-spectrum Sunscreen is a weightless 100% physical sunscreen that provides broad spectrum protection with a weightless, transparent finish. The formula, which contains titanium dioxide and zinc oxide, protects against damaging UV rays. Reduces signs of premature aging. Oil free, PABA free and fragrance free. Perfect for skin sensitive to traditional sun blocks.
From a reviewer: "This stuff goes on so amazingly well, light and not at all greasy. It almost instantly disappears into my very dry skin areas while my very oily T-zone stays oil free! I never thought I would find a product that could accomplish that task. I've worked out wearing this and it does not run or get greasier when I sweat and the SPF protection is great, although, like most sunscreens, it might need re-application if spending more than a few hours outdoors. Makeup goes on great over it too, this will be my everyday sunscreen from now on."
$34.00 on Skinceuticals.com; $34.11 on Amazon.com
Kiehl's Super Fluid UV Mineral Defense Broad Spectrum SPF 50+
4.3/5 stars on MakeUpAlley.com; 3.5/5 stars on Sephora.com; EWG rating: 4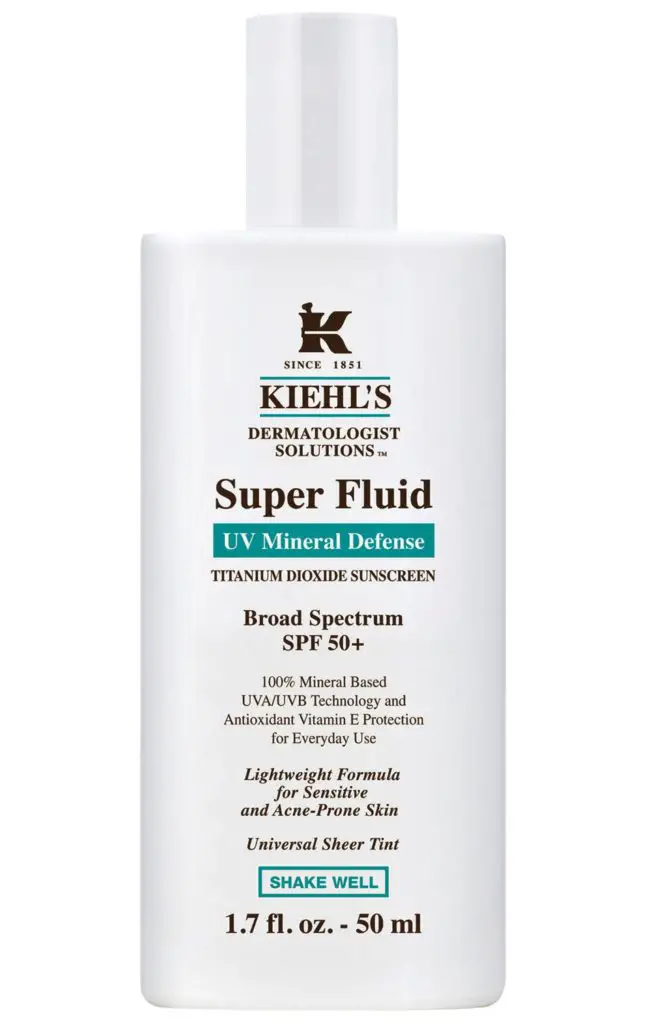 Kiehl's Dermatologist Solutions™ Super Fluid UV Mineral Defense Titanium Dioxide Sunscreen SPF 50+ is formulated with a 100% mineral based filter in a lightweight, gentle lotion that sensitive and acne-prone skin will find non-irritating and comfortable. This sheer sunscreen, lightly tinted to enhance the natural skin tone, delivers UVA and UVB broad-spectrum protection.  Some reviewers found the tint too light, others, too dark. Recommend trying a sample in store before purchase.
From a reviewer: "This one has an universal tint, very similar to many Asian sunscreens, slightly greyish beige which in case of darker skin tones might leave a pallid cast on your skin. For my light complexion with yellow undertones it actually spreads and blends in well and I cannot see the colour cast after it sinks in. Although initially it goes slightly pinkish-grey as I pile it on, then it kind of blends with my skin colour and any shine disappears leaving a delicate, almost satin veil."
$38.00 on Kiehls.com; Sephora.com; Macy's and other retailers.
La Roche-Posay Anthelios Mineral SPF 50 Sunscreen
5/5 stars on Dermstore.com; 3.4/5 stars on Amazon.com; EWG rating: 3/10
La Roche-Posay Anthelios Mineral SPF 50 Sunscreen is a 100% mineral sunscreen with zinc oxide and antioxidant protection for the face. Non-whitening, with a smooth, velvety finish that sinks into the skin quickly and evenly. Weightless texture, matte finish. Suitable for sensitive skin.
From a reviewer: "I love the way this sunscreen absorbs into the skin quickly and is so smooth and easy to apply. I've used sunscreen in the past that was thick and hard to spread and was hard to get into the skin enough to not have white streaks. This sunscreen is so different. It really is a nice smooth texture that spreads very easily. I use this on my body and a different product on my face, but I actually think this could work as a facial sunscreen too."
$35.99 on Dermstore.com; $23.45 at Walmart; $39.99 on Amazon.com
What about those "sunscreen" pills and supplements?
The FDA recently sent warning letters to four companies that were marketing nutritional supplements to prevent UV rays from damaging the skin. The FDA reports:
We've found products purporting to provide protection from the sun that aren't delivering the advertised benefits. Instead they're misleading consumers, and putting people at risk. … There's no pill or capsule that can replace your sunscreen.
The companies were instructed to remove such claims from their marketing materials.
As of the timing of this article, there is no known pill or capsule that can provide you with the sun protection you need alone, without a topical sunscreen.
New and cutting edge: what is Tinosorb?
Just becoming known in North America, Tinosorb is a family of broad spectrum sunscreen ingredients.  It is considered cutting edge because it is both chemical and mineral but minimizes the drawbacks of both.  Tinosorb M acts as both a physical and chemical sunscreen, protects from UVA and UVB, barely absorbs into the skin, and doesn't degrade in sunlight. Tinosorb S offers excellent UVA protection because it covers a large portion of the UVA spectrum. Tinosorb is used in sunscreens in Europe but has yet to be approved by the FDA.  It is available in certain sunscreens in Canada.
*     *     *
As an Amazon Associate BLUE HARE earns a small commission from qualifying purchases of products in our articles, which helps us bring you more great information and ideas.
Learn more about sunscreens: The right sunscreen can save your life. Here's why…
Find more health and beauty tips on BLUE HARE.