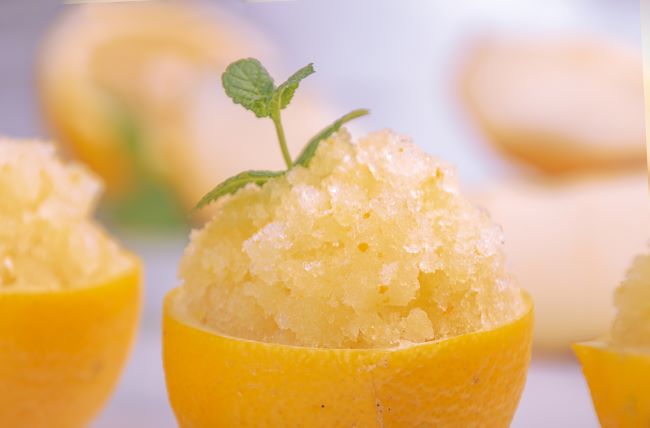 You may have had granita before—a crunchy frozen dessert that also can be served as a palate cleanser between courses of a heavier meal. It is the ultimate refreshing treat—intensely flavored ice crystals that cool you down when it's hot hot hot outside. And it's easy to make in your freezer at home.
Granita—or granita siciliana–is found throughout Italy though it hails from Sicily. It is related to sorbet and Italian ice, although it is usually more crystalline in texture. Its consistency varies from region to region and can range from coarse to smooth. Its texture is unlike ice cream, which is creamier, or sorbet, which is more compact.
The traditional method for making granita is quite simple: pour juice or other flavored liquid, such as coffee, into a shallow dish, place the dish in the freezer, and remove and scrape the surface every hour for about 4 hours until the desired granular texture is achieved. There is an EASIER way, however, to make granita. It is so easy it will change your relationship with granita: use a freezer bag.
With freezer bags, granita is at your fingertips
We first learned of freezer-bag granita when a tiny cupful was served between courses at a dinner hosted by good friends a few years ago. Their secret for making granita is summed up as follows:
My method was full of laziness.
I never made a granita with fresh fruit, not that it cannot be done, I just never bothered because I am not fond of the seeds, pulp, etc. Instead, I head to Citarella or Fairway, which always have fresh orange, blood orange, and grapefruit juices and lemonade available.
To supplement the bought-but-fresh juice, I add fresh zest from a lemon or orange depending on the flavor I am making. If the juice is really tart, I will add some sugar to taste, and then various alcohols to soften them up; you need some mix of sugar and/or alcohol to help keep the granita from freezing solid (plus what's wrong with a little hooch?). 
This method became an immediate hit; there is always some flavor of granita in the freezer once the full bore of summer is upon us.
What you need to make easy citrusy freezer bag granita
32 oz. fresh squeezed juice or high quality bottled juice
¼ C. sugar, simple syrup*, or other sweetener, to taste, as needed.
Fresh zest from lemon or orange
One-gallon size freezer baggie (2)
Directions
Combine the juice and sugar, if using, stirring rapidly to dissolve the sugar. Orange juice and lemonade may be sweet enough but blood orange and grapefruit juices could use a little extra sweetener. To taste, of course.
Add the zest and mix well.
Pour mixture into a gallon freezer baggie, then double bag (to keep from making a mess if you don't get the zip lock tight enough.)
Lay the bag on a freezer shelf. After 1 or 2 hours, when it is starting to get hard but before it is a solid block, take it out and knead the bag with your hands to break it up.
Repeat every 30 minutes, until the baggie is full of crystals.
After about 4 to 5 hours—freezing time will depend on sugar and alcohol content–it should be the right mixture of frozen crystals/slushiness so that you can spoon it out with a slotted spoon without liquid running through the slots.
If there is still liquid after it is fully frozen, you need to add more juice. And if it is too hard to spoon out, put it in a blender until it's smooth and icy but before it liquifies. Just experiment and you should find your way.
Serve in chilled bowls, cups, cordial or martini glasses, or champagne coupes.
Granita will keep in the freezer for several weeks. Knead it occasionally to keep it crunchy.
* To make simple syrup combine equal parts water and sugar in a small saucepan. Heat on medium until the sugar dissolves. Remove from heat, add any flavorings, optional (lemon peel, rosemary, mint, etc.) and let cool. Store in refrigerator for up to two weeks.
Easy, boozy, grown-up granita
Basic granita (above) can be transformed into a sophisticated snack or aperitif by adding 2 to 3 oz. of alcohol in Step 2.
Some combinations to get you started.
Orange granita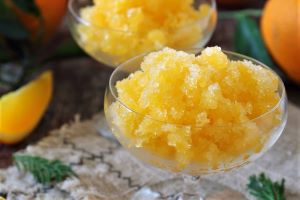 Orange juice + Grand Marnier or Cointreau
Orange juice + 1 oz. Campari + 1 oz. sweet vermouth
Orange juice + 1 oz rum + 1 oz. Licor 43
Grapefruit granita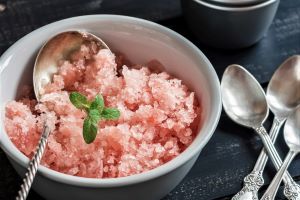 Grapefruit juice + Campari or Aperol
Grapefruit + Grenadine
Lemon granita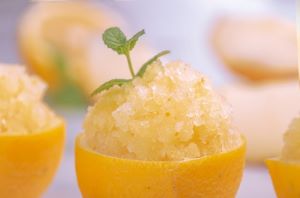 Lemonade + limoncello
Lemonade + mint + rum
Lemonade + Pimm's No. 1 Cup or Gin
*     *     *
You may also like
Go to the Blue Hare homepage for more articles for fabulous women