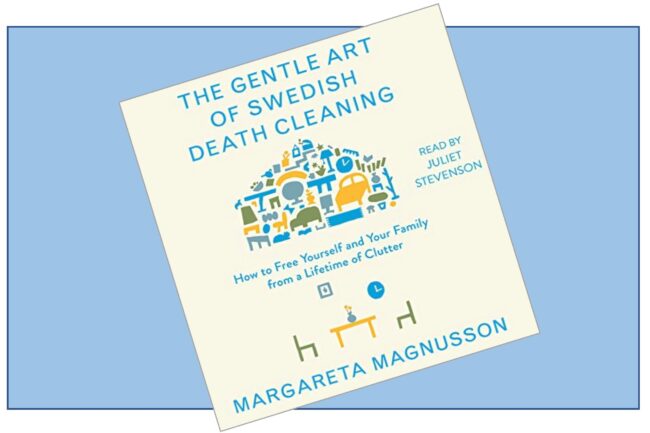 By now, most of us will be familiar with Marie Kondo, the tidying expert, and her KonMari method of decluttering.  Marie Kondo is a young woman. Her philosophies are popular with a "Sex and the City" type audience of young people who will use her philosophies as they move through the stages of their lives.
Now there is a newer book about decluttering written from a different perspective, an approach tailor-made for the woman who is decluttering after 60. The book is written through the eyes of a mature woman who describes her age as being "somewhere between 80 and 100." Her approach to decluttering is not just for herself but for those who may have to take care of her affairs when she is gone.
It's a tough subject, approached with humor
In The Gentle Art of Swedish Death Cleaning, artist Margareta Magnusson instructs readers with Scandinavian humor and wisdom to embrace minimalism for a reason: to make things easier and less traumatic for those who are left to sort through things.
Her goal is to make the process uplifting rather than overwhelming.  Magnusson says that the process of clearing out unnecessary belongings can be undertaken at any age or life stage but should be done sooner than later, before others have to do it for you.  Through her book, readers get a glimpse into her life in Sweden and, hopefully, as they read her charming and unsentimental ruminations, become more comfortable with the idea of letting go.
__________________________________________________
__________________________________________________
The Gentle Art of Swedish Death Cleaning principles
Tell your loved ones and friends what you are up to. They might want to help you and even take things you don't need and also help you or move things that you cannot move alone.
It is important that your first choice is easy for you. This will get you into the swing of things and give you a sense of satisfaction. Magnusson says she always chooses clothes as her first category.  They are less likely to overwhelm you with sentiment and memories.
Your goal should not be to tackle your entire house. Your goal should be a room, a portion of a room or even a cupboard.  Congratulate and reward yourself when you are finished and resolve to move resolutely and steadily through the rest of the house.
Size really matters. Once you've moved on from clothes, start with large items in your home, and finish with the small.
Start by checking the basement or the attic or the cupboards by your front door. These areas are great places to get rid of your excess.
Don't start with photographs–or letters and personal papers. It can be both a lot of fun and a bit sad to go through photographs and letters but one thing is certain: if you start with them, you will definitely get stuck down memory lane and may never get around to doing anything else.
It is always much easier to death clean a home when it is well organized. By "organized," Magnusson means that all things have a place of their own. When your home is a complete mess, it is very hard to clean it at all. But death cleaning paves the way to an organized home.
As you go through your items, remember them, then give them away. There is always a young person starting a new life. Let them enjoy your things like you did.
__________________________________________________
__________________________________________________
Have a conversation with yourself
Getting started with decluttering at our age can be daunting–what to do with all that stuff?  Asking yourself a few questions can help break that emotional logjam.
You have many nice things; have you thought about what you want to do with it all later on?
Do you enjoy having all this stuff? (Don't allow yourself to say "yes.")
Could life be easier and less tiring if we got rid of some of this stuff that you have collected over the years?
Is there anything you can do together with your family–in a slow way–so there won't be too many things for them to handle later?
Magnusson's overall thoughts on death cleaning
"Aging is certainly not for weaklings. That is why you should not wait too long to start your downsizing. Sooner or later you will have your own infirmities, and then it is damn nice to be able to enjoy the things you can still manage to do without the burden of too many things to look after and too many messes to organize."
"If you think secrets will cause your loved ones harm or unhappiness, then make sure to destroy them. Perhaps you have saved letters, documents, or diaries that contain information or family stories you would never wish to embarrass your descendants with."
"Death cleaning is certainly not just about things. If it were, it would not be so difficult.  Although our belongings can bring many memories to life, it becomes more difficult with photographs and written words. They are all about feelings!"
"The more I focused on my cleaning, the braver I have become. I often ask myself, 'Will anyone I know be happier if I save this?' If after a moment of reflection I can honestly answer no, then it goes into the hungry shredder, always waiting for paper to chew."
"Our planet is very small. It may perish under the weight of our consumerism. Recycling and donating can both help the planet and also bring things to people who may need them."
Through our affiliate relationships with Amazon and other entities we make a small commission for any purchases you make following links on this page. 
  *   *   *
You may also like
Go to the BLUE HARE home page for more articles for fabulous women