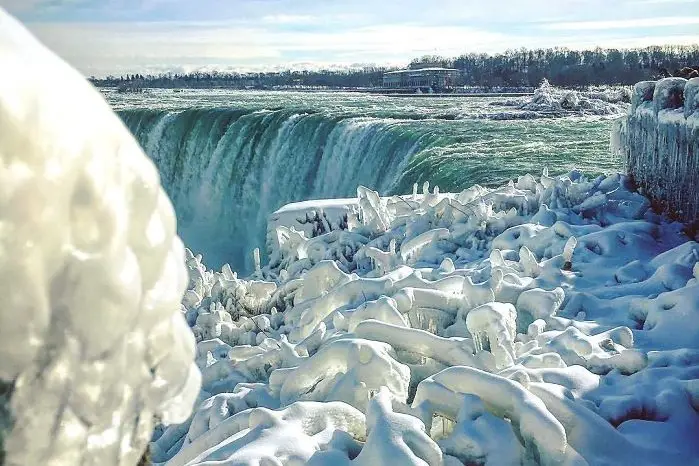 Before you shout, "ARE YOU KIDDING ME?" hear us out. Winter can be beautiful. Instead of trying to escape the season, head even deeper into its territory with a visit to Niagara Falls and Niagara-on-the-Lake, just over the New York border into Canada.
Ice like you've never seen it
January 2018 while it lasts
The arctic freeze that swept across the eastern half of North America in early January transformed Niagara Falls into a winter wonderland, or maybe an otherworldly moonscape.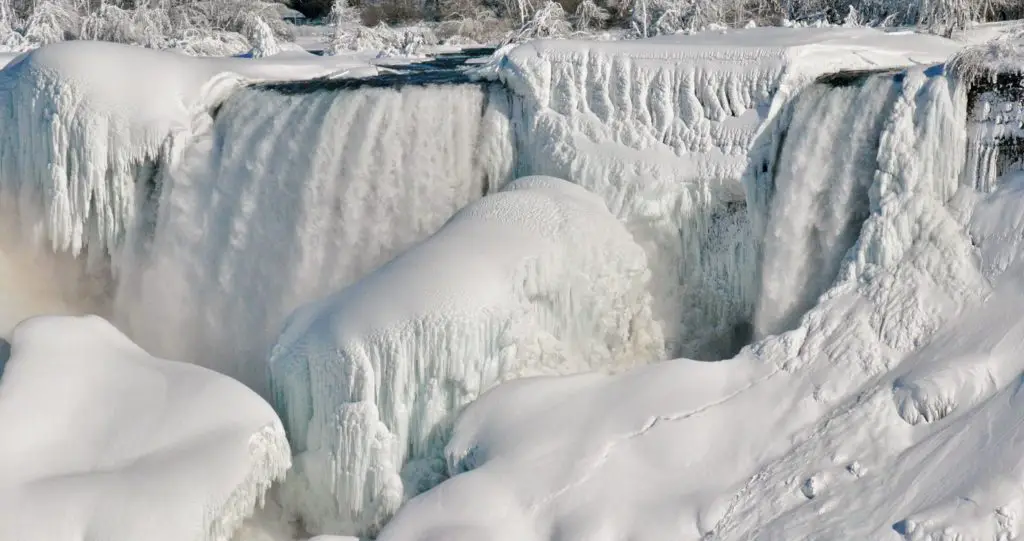 A snowy field of ice sculptures forms when the frigid wind blows the mist and spray onto nearby ornamental walls, lamp posts, trees, and buildings.  When the sun shines, these ice sculptures turn into art.  The Falls are stunning in winter—and in a particularly cold winter you might catch a glimpse of a frozen Niagara Falls.
Another bonus is cost. During the winter months you can get a hotel room with a view overlooking the Falls at a fraction of summer rates.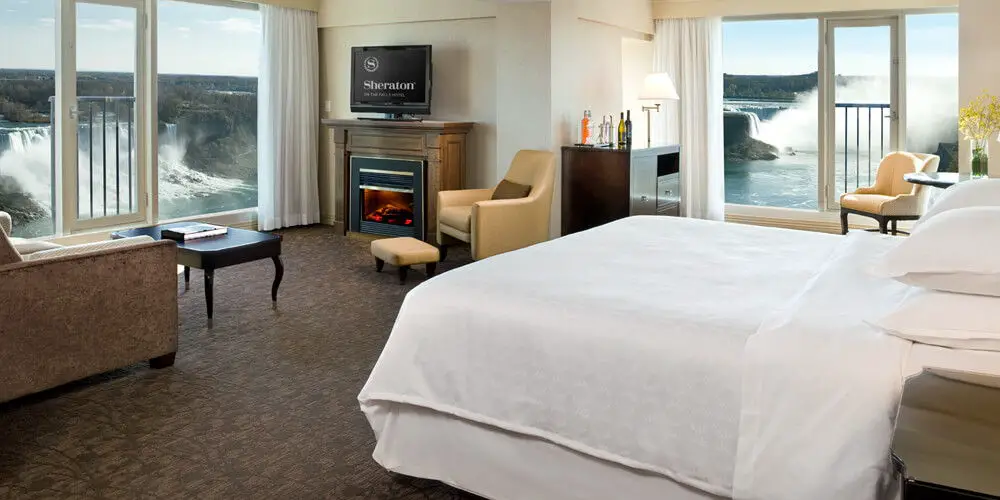 A stunning winter festival of lights
November 18, 2017 to January 31, 2018
When the sun sets, head out for a drive along the Niagara Parkway to enjoy the Winter Festival of Lights (WFOL)—one of the premier illumination festivals in North America. WFOL attracts over 1.5 million visitors annually, 80% of whom come from afar.  The 8K route runs along the beautiful Niagara Parkway, past the area's casinos, and into surrounding tourist districts.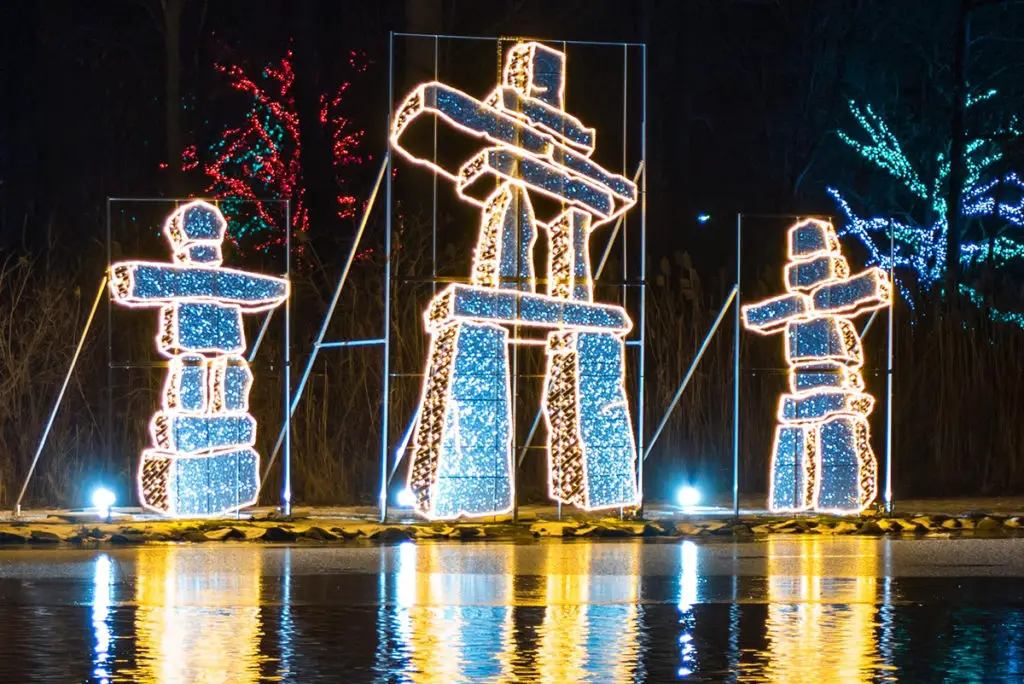 Displays on Clifton Hill, located between the Rainbow Bridge and the Falls, include a beautiful blue and red tree, an arrangement of illuminated spiral trees, and 20 animated displays.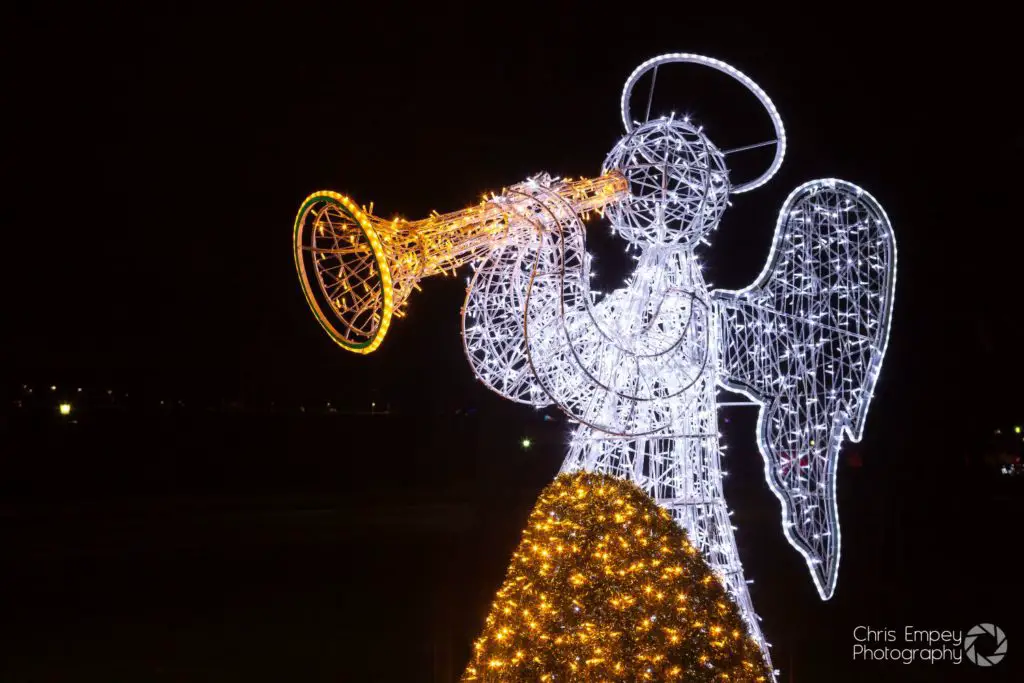 In the Niagara Parks one finds trees decorated with white lights imitating Spanish moss; an illuminated fountain; the Passage, an eighty-four feet long tunnel made of twenty illuminated circles that visitors can walk through; and angels protecting the Niagara Parks Police Building.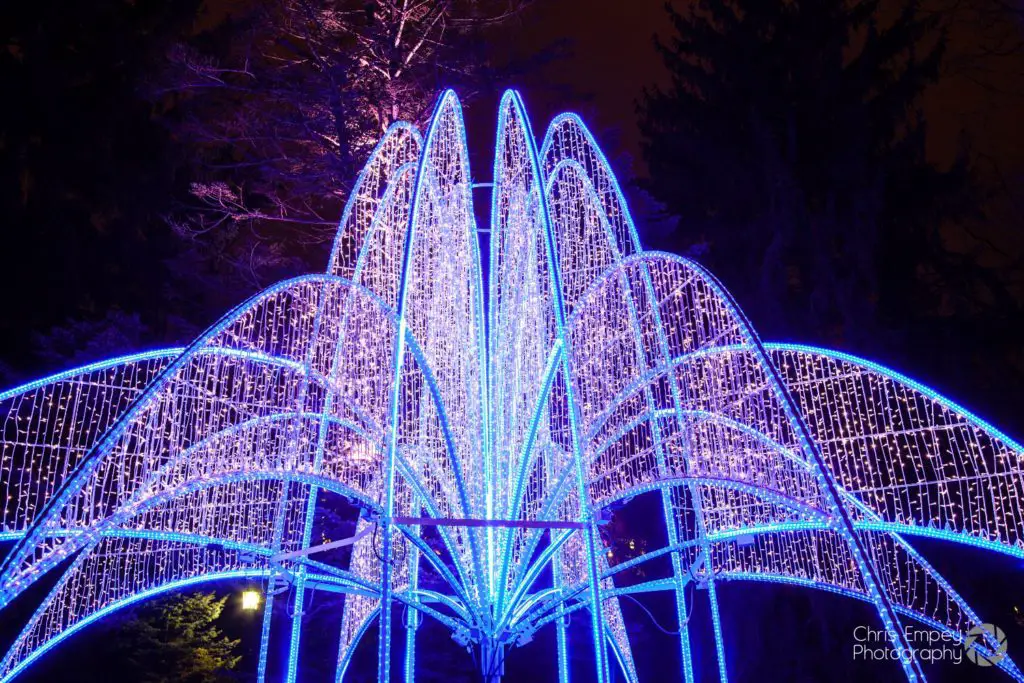 A newly programmed light show on the Toronto Power Generating Station will be choreographed to music from the Trans-Siberian Orchestra (tune in your car radio).
Dufferin Islands, upstream from the Falls, is home to the Festival's Canadian wildlife displays including three-dimensional moose, deer, polar bears, fox, bison and geese.
This, the 35th season of the lights festival, began on November 18, 2017 and runs to January 31, 2018. There is no admission fee to view the illuminations, but donations are gratefully accepted.
Take the chill off with a glass of Icewine
Friday, January 12 – Sunday, January 28, 2018
There is no finer way to experience the bounty of the winter season than travelling the Niagara wine route, sipping the best in local Icewine and table wines, and sampling local cuisine. The Niagara Icewine Festival will be held over three weekends in January (12-14, 19-21, and 26-28).  There are various opportunities to take part in festival activities, from a weekend event at the Scotiabank Convention Centre to indulging in selected wine and culinary pairings and outdoor activities along the famed Niagara Wine Route. Thirty-eight wineries are participating.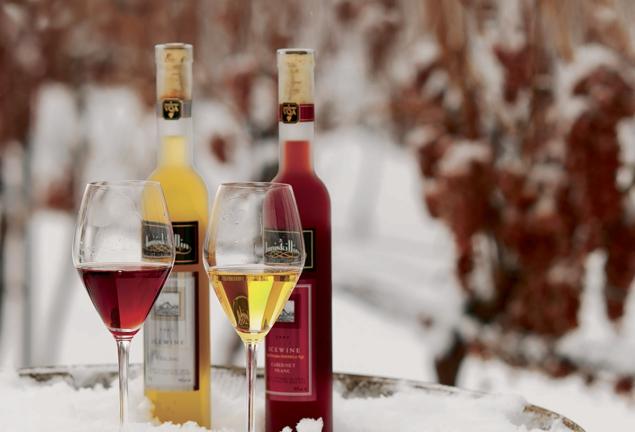 Canada is the world's leading producer of icewine. But what is icewine? And how does it differ from other wines?
Icewine is a nectar-like dessert wine produced from grapes that have frozen while still on the vine.  Dessert wines like Sauternes (France) and Tokaji (Hungary) are made from grapes affected by "noble rot," which partially raisins them. When picked they produced a fine, concentrated sweet wine. Freezing has a similar effect: sugars and solids do not freeze but the water does.
For icewine, grapes are left on their vines after they have already reached full ripeness until the first deep freeze of winter. The harvest takes place between December and January, at 22–25°F (–9 to –13 °C).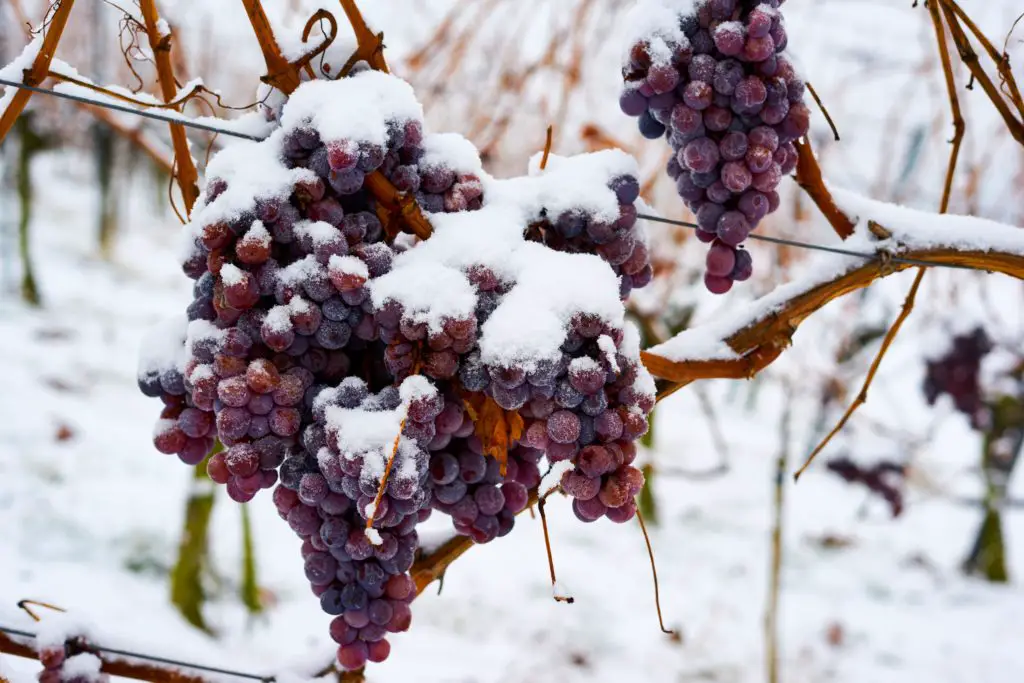 The grapes are either handpicked or machine harvested in their naturally frozen state, usually during the night. They are pressed while still frozen — the winery doors are left open to maintain the sub-zero temperature. The water in the juice remains frozen as ice crystals during the pressing and only a few drops of sweet concentrated juice are obtained from each grape.  The juice ferments very slowly for several weeks, sometimes even months, and ceases fermenting naturally at approximately 10–12 % alcohol by volume. Icewines have a refreshing sweetness balanced by high acidity. Learn more about icewine in this excellent post, "Love Icewine? You've got to visit these Niagara wineries," on the blog It's Five O'Clock Here.
The Niagara Icewine Festival Discovery Pass
Three weekends January 12-28
Travel at your own pace along the Niagara Wine Route with a Discovery Pass. Participating wineries offer tastings of their Icewine or VQA wines. Contrary to their categorization as "dessert wines," icewines pair perfectly with savory foods.  The wineries along the "Discovery" wine route pair their wines with a culinary creation prepared by the region's chefs.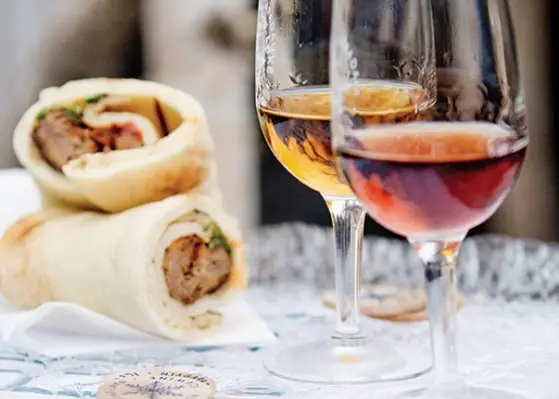 Coyote's Run Winery in St. David's will pair their 2016 Vidal Icewine with Thai Cashew Chicken from The Smokin' Buddha food truck.
Jackson Triggs' Cabernet Franc Icewine is paired with Asian braised beef steam bun with daikon radish and toasted garlic hoisin.
Award-winning Inniskillin Wines sparkling Vidal Icewine is paired with southern fried chicken on a vanilla waffle, topped with cocoa Icewine hot sauce.
At Peller Estates in Niagara-on-the-Lake the winery chef has produced Icewine Marshmallows to roast over an open fire to pair with a glass of its world-renowned Cabernet Franc Icewine.
For an outdoor experience head to Trius Winery where you'll cozy up fireside with Chef Dodd's Spiced Piggy Pulled Pork and sweet Trius Vidal Icewine. Then walk over to hockey-great Wayne Gretsky's Estates to enjoy a Double Chocolate Icewine Cupcake paired with its Cabernet Franc Icewine. Afterwards go skating on the outdoor ice rink.
Niagara-on-the-Lake Icewine Village
January 20th, 2018 to January 21st, 2018
Niagara-on-the-Lake is one of the most charming villages in North America.  Located at the confluence of the Niagara River and Lake Ontario, it makes you feel as if you stepped into an English village. The streets are lined with landmark buildings, local shops, restaurants, and art galleries. Considered "the culinary capital of Canada," Niagara-on-the-Lake has more than a dozen fine dining restaurants (with a 4-star or higher rating on TripAdvisor); many specialize in seasonal, farm-to-table cuisine.

NOTL is most famous for its summer theater festivals, but the town also comes alive in winter. Historic Queen Street transforms into an Icewine Village, with sparkling ice sculptures, where wineries will pour and Signature Kitchen chefs offer Icewine-inspired culinary creations.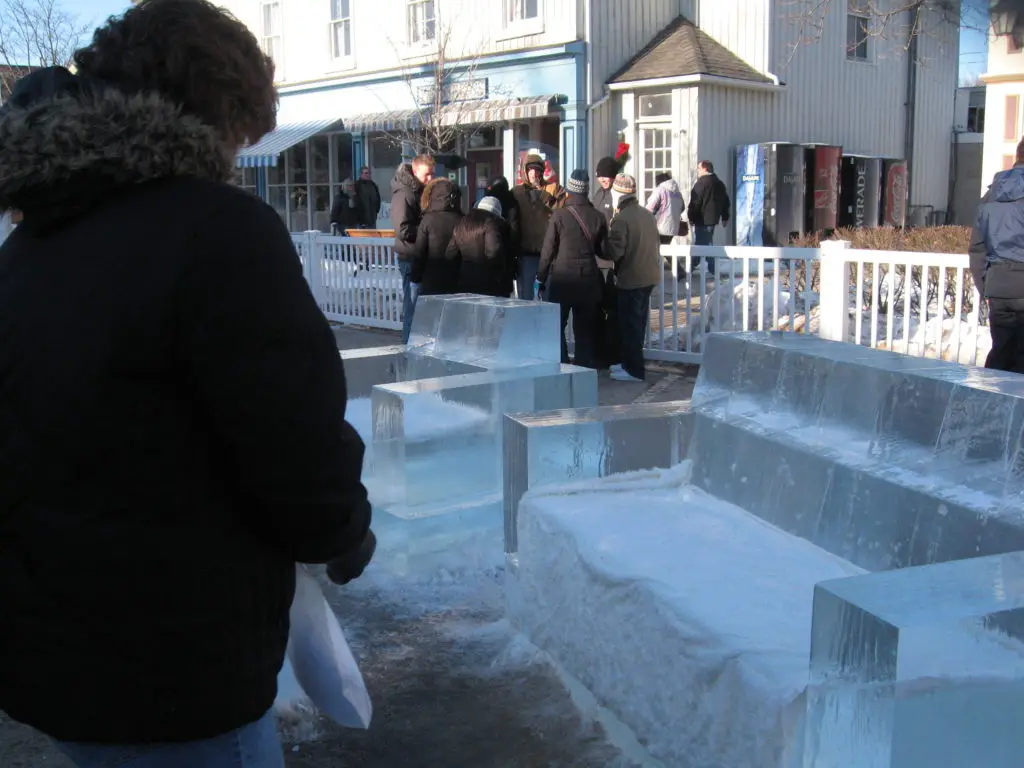 Where to stay
Niagara-on-the-Lake offers a wide variety of accommodation choices, from five-star hotels, like the historic Victorian Prince of Wales Hotel, five-star country inn Pillar and Post, and modern, clubby Shaw Club, to charming inns.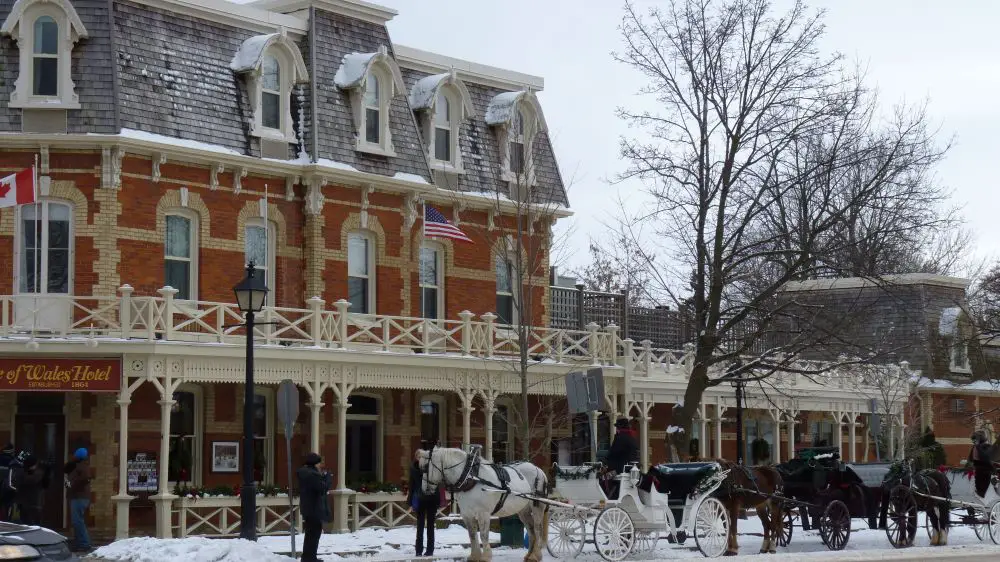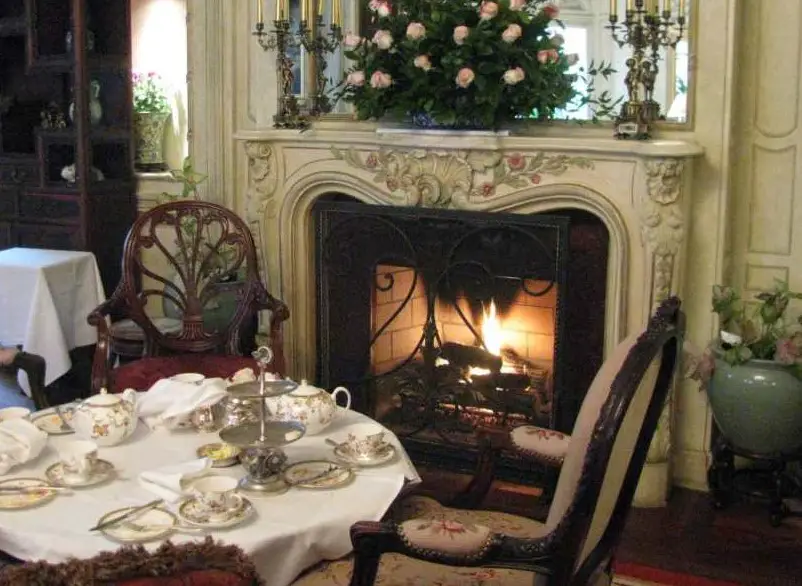 The Chamber of Commerce can help locate the best accommodations for your visit, and can make reservations at one of the town's 200 bed and breakfasts and cottages.
Winter. it may seem like it lasts a lifetime, but it's really only a few weeks long. Enjoy its beauty before the ice and snow disappear.
*     *     *     *     *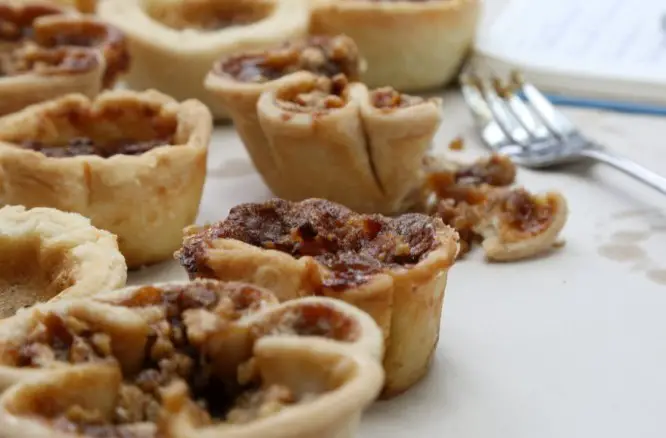 P.S. Don't forget the butter tarts!.  Don't know what they are?
Read "The Best Butter Tarts," Today-magazine.com
Photo credit: Jon Ogryzlo
Top photo source: abitesta