Thanks to the coronavirus most of us will be spending the summer at or near home, coming up with creative ways to transform the backyard into a leisurely spa, campground, or a pool paradise. With beaches either closed or limiting access to local residents, the search to recreate a vacation spot a few feet from the back door has soared. The New York Times recently reported that since April, Google searches for above ground pools has outpaced "the number of inquiries each spring for the last five years by about 300 percent."
The virus also gave us the "quarantine fifteen"–the extra pounds gained from weeks of watching Netflix and snacking on the five-pack of Oreos from Costco.
This is not a summer for dinners in the city. It's not a summer for bodycon dresses. The summer of 2020 will be called, henceforth, the summer of baggy dresses.
We found these chic and affordable dresses on Amazon
Dresses are the easy go-to for summer. Choosing one that flows away from the body allows both freedom of movement and lounging. They come in a variety of lengths, from above the knee to ankle length, and can serve as a house dress paired with Birkenstocks or a casual outfit with strappy sandals. You can throw them on in a flash, the better to get to the early morning senior shopping hour at Trader Joe's without a lot of fuss.
We found a treasure trove of fun, airy dresses on Amazon that are creative and trendy, yet age-appropriate. They're the product of a new crop of designers in China, many of whom are marketing solely on Amazon.com.
Most are available in a range of sizes from small to XXL. Best of all, they are affordable: most are less than $40.
Read the reviews for sizing info
Regarding size, read the product descriptions from the manufacturer for accurate size charts. And read the reviews—there are often hundreds of them—because reviewers have been very generous in sharing their height, weight, age, the size they bought, and how it fits.
The companies also take an active interest in assuring you order the right size, and often will contact you to double-check before fulfilling your order.
We were impressed with customer service on the orders we placed, and very pleased with the outfits we received. A word of advice: order only directly from the brands—not from a third-party retailer—and carefully check the return policy if shipping via Prime is not available.  Some brands are better than others. You can glean a lot from the reviews.
Knee-length, short-sleeve cotton dress features contrast splicing pattern with applique detail. Shown in gray and watermelon. Romacci color contrast cotton vintage dress, $24.99 on Amazon.com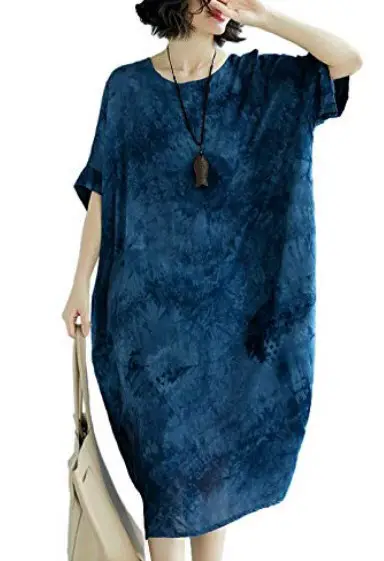 Lightweight tie-dye print dress in a "Chinese lantern" style has a rounded neckline, dolman half sleeves, and two side pockets. Comes in navy and red (but we wouldn't blame you for buying both). Cotton/polyester blend. One size. Loose-fit tie-dye dress with pocket by GGUHHU, $22.88. 
Loose swing midi dress designed with a stylish floral embroidered pattern that can double as a tunic over capris. Short sleeve, side pockets, hi-low hem. Multiple sizes and colors. Made of soft cotton linen material.  Minibee women's embroidered linen A-line Sundress, $39.98.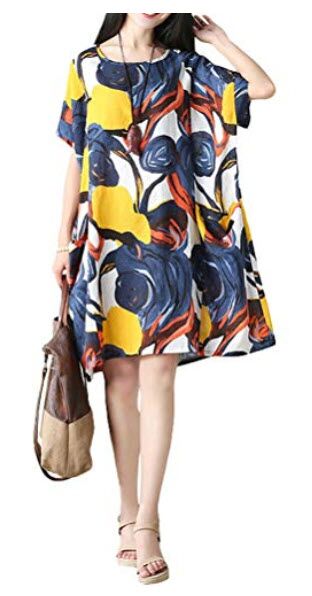 This light and breezy short cotton/linen dress has deep pockets and can be worn as a tunic top over crop pants and as a swimsuit coverup. Comes in several Matisse-esque bright prints. Sizes from S to XL,  45% Cotton, 55% Linen. Summer casual dress flowers print by Mordenmiss, $29.99
Oversize tunic dress made of cotton/linen fabric. Lightweight and comfortable, available in sizes M to XXL, and in red, blue, gray, and green. Mordenmiss women's cotton linen color block short sleeve t-shirt dress with pockets, $35.00.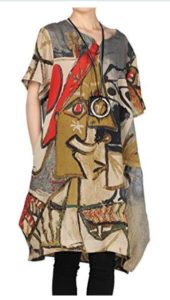 Picasso could have designed this dress if he had a brown-gray-red period. Pullover style, with a V-neck, short sleeves, and side pockets. Asymmetrical hem, very lightweight material. Sizes S to XXL. You can wear it as a tunic over leggings, or as a dress—it may just graze your knees.  Summer abstract print dress with pockets by Mordenmiss, $32.00
Looking for something more sophisticated? Try this dot print, lantern shape dress with round neck, short sleeves, and pockets. Loose silhouette, vintage and chic. Crafted from cotton and linen fabric in black, red, and white. Sizes M to XXL.  Romacci Cotton Linen Dot Print Baggy Midi Dress, $24.59.
Was there ever a more perfect dress-slash-caftan for an afternoon dining under some shade trees? Made of a mid-weight cotton/linen fabric in bright summer stripes with a relaxed fit and jauntily angled pockets. Multiple colors. Very large and loose in sizes M and L.  Women's Cotton Linen Striped Dress by Mordenmiss, $47.00
This loose, long, boho dress brings a special cheer to the season. Contrast color print, A-line silhouette with pleated waist, drop shoulder and half sleeves. Cotton  linen, unique print, chic style, charming. Multiple colors and patterns. One size. Romacci  vintage loose dress with contrast color print, $29.98.
* * *
As an Amazon affiliate Blue Hare makes a small commission on purchases made through the links on this page. It helps us keep the lights on. Thank you for supporting Blue Hare.
You may also like
Go to the Blue Hare homepage for more articles for fabulous women