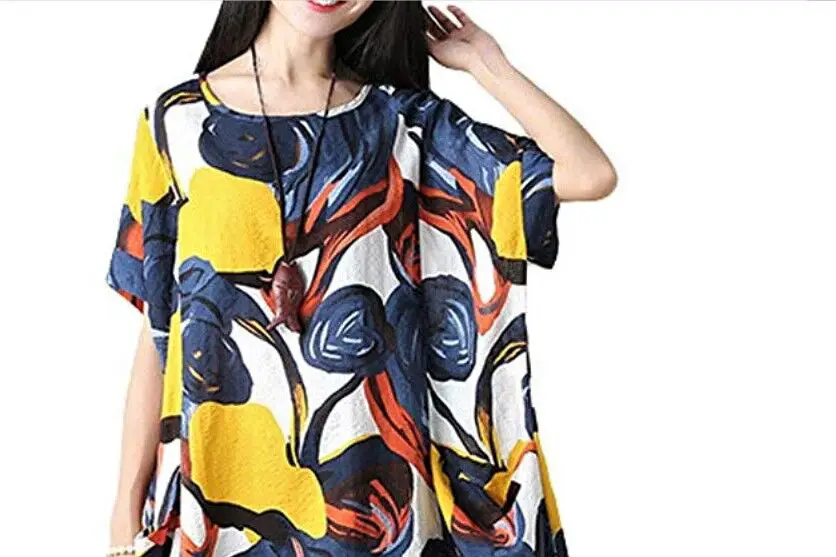 One of the most frustrating challenges for women over 60 is finding light and breezy summer dresses with sleeves. Stores and catalogs are full of frocks that are difficult for most of us to pull off. The style may skew too young, and almost certainly will be too short, and sleeveless.
Sadly, too many of us sport upper arms these days that look more like flabby batwings.
But even those with well-toned arms will have aging skin that is best revealed by candlelight, not the brilliant light of day.
Help from a surprising source: Amazon
Fortunately, we found a treasure trove of fun, airy dresses on Amazon.com that have sleeves—and pockets. The styles are creative and trendy, yet age-appropriate. They're the product of a new crop of designers in China.
Most are available in a range of sizes from small to XXL. Best of all, they are affordable: most are less than $40.
Read the reviews for sizing info
Regarding size, read the product descriptions from the manufacturer for accurate size charts. And read the reviews—there are often hundreds of them—because reviewers have been very generous in sharing their height, weight, age, the size they bought, and how it fits. The companies also take an active interest in assuring you order the right size, and often will contact you to double-check before fulfilling your order.
We were impressed with customer service on the orders we placed, and very pleased with the outfits we received. A word of advice: order only directly from the brands—not from a third-party retailer—and carefully check the return policy if shipping via Prime is not available.
Versatile for travel or at home, dress up or casual
If you're planning a trip this summer, whether to the beach or abroad, these dresses make excellent companions. They're versatile and light and will fold up so they take little space in your carry-on—leaving room for plenty of shoes.
Loose-fit tie-dye dress with pocket by GGUHHU, $22.88
This lightweight tie-dye print dress in a "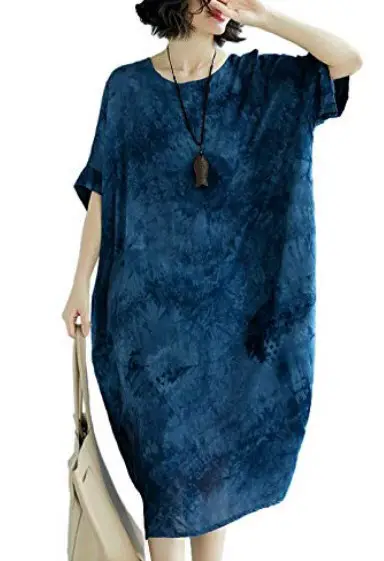 Chinese lantern" style has a rounded neckline, dolman half sleeves, and two side pockets. The pockets are great for tucking in train and bus tickets and museum passes, and perhaps even a few keys. It can be worn as a casual day dress with walking flats or dressed up with a necklace and sandals. Comes in navy and red, but we like the navy as a more versatile travel option, although red is striking. We wouldn't blame you for buying both. Cotton/polyester blend. One size. Free shipping, but not available for Amazon Prime. Takes a few weeks to receive once order is placed.
Gingham-checked dress with pockets by Mordenmiss, $35.00

This short sleeve gingham-checked A-line dress can be worn to run errands on a warm day, take in a museum or lunch in the city, or dressed up with sandals for an evening garden party. The dress has a round neckline and two patch pockets and is lightly gathered under a back yoke that allows freedom of movement. Cotton/linen, range of sizes, in black, light blue, and navy. Free shipping and returns with Amazon Prime.
Summer casual dress flowers print by Mordenmiss, $29.99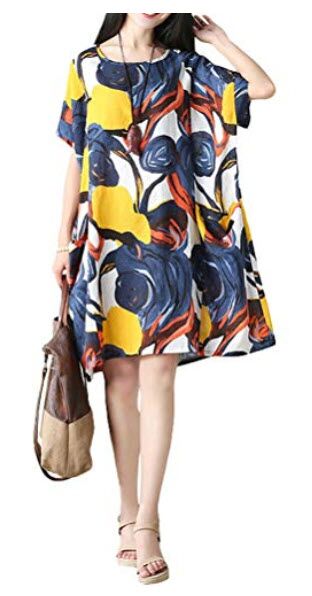 This light and breezy short cotton/linen dress is an especially versatile piece for travel. It has deep pockets and can be worn as a tunic top over crop pants and as a beach coverup. All in all, it's a very modern look. As one Amazon reviewer who has purchased several outfits from this brand remarks, "I purchased this for my mom and the material, design, colors, and fit make her look like a modern-day goddess!" Comes in several Matisse-esque bright prints. Sizes from S to XL, but check the size charts to get an accurate size. 45% Cotton, 55% Linen. Free shipping but not eligible for Amazon Prime.
Cotton linen dress with short sleeves and hi-low pockets by Mordenmiss,
$39.00  Breathable, lightweight cotton/linen blend makes this piece travel-friendly, while the subtle above-knee side seam lends dimension to the baggy lantern-style silhouette. Pullover style, with unique high/low pockets. Comes in several neutral colors—the dress shown here is blue-gray—making it a nice backdrop for accessories. Appropriate for office or dinner out. Free shipping and returns with Amazon Prime.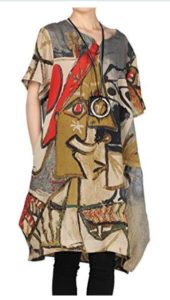 Summer abstract print dress with pockets by Mordenmiss, $32.00
Picasso could have designed this dress if he had a brown-gray-red period. Pullover style, with a V-neck, short sleeves, and side pockets. Asymmetrical hem, very lightweight material. 85% Cotton, 15% Polyester. Sizes S to XXL, but read product description for detailed size information. You can wear it as a tunic over leggings, or as a dress—it may just graze your knees. Free shipping and returns with Amazon Prime.

Women's Cotton Linen Striped Dress by Mordenmiss, $47.00
Was there ever a more perfect dress-slash-caftan for strolling in a beach town? Or an afternoon dining under some shade trees? Made of a mid-weight cotton/linen fabric in bright summer stripes with a relaxed fit and jauntily angled pockets. Very large and loose in sizes M and L. Free shipping but not eligible for Amazon Prime.
* * *
As an Amazon affiliate Blue Hare makes a small commission on purchases made through the links on this page. It helps us keep the lights on. Thank you for supporting Blue Hare.
You may also like
Go to the Blue Hare homepage for more articles for fabulous women