Just off Florida's west coast, north of Sarasota and south of Bradenton Beach, is a sparkling little island called Longboat Key. The beaches are white quartz, made from shells ground to powder over millions of years.  At first glance, Longboat key would appear to be an exclusive enclave for the rich. Beach front homes can sell as high as 20 million dollars. Gardens are manicured. There is no hustle and bustle. There is no night life.  There are very few commercial businesses except for one or two nicely landscaped plazas—after all, the key is only about 15 miles long and 2 miles at its widest point.
There is a grocery store and drug store but their high prices reflect the location, so many visitors do their shopping off the key.  The main road—Gulf of Mexico Drive–runs north to south. Just off the key to the south is St. Armand's Circle, with high-end stores that cater to tourists.  The flagship establishment of the Circle is the sprawling Cuban restaurant Columbia that has served visitors since 1959.
If you dread the thought of stereotypical Florida—tourists in palm-frond vacation wear, tiki huts, bronzed bodies straight out of magazines—Longboat Key could very well be for you.  Far removed from the family-oriented commercialism of Orlando, the high rises of Miami, and the bustle of Naples, Longboat Key is the place to relax, catch up on reading, ride a cruiser bicycle along the key, lie on an uncrowded beach, and eat fresh seafood without having to wait days for a dinner reservation.  Most people who stay on the key return to timeshares each year or rent self-catering units at the key's many small, understated resorts.  Despite the multimillion dollar homes (many occupied only a few months a year) and the quiet elegance of the surroundings, Longboat Key is relatively affordable.
Our inside view of Longboat Key
My husband and I have been going to Longboat Key for nearly 20 years—we consider it an undiscovered jewel, although it is not quite that. Over those years we have developed an insider's appreciation of where to go and what to do.  Whether you visit for a few weeks or a few months, here are some tips to help you experience the real Longboat Key.
_________________________________________________________
_________________________________________________________
Get the local gossip; feel like a local
If you nurse a drink at one of the few bars on Longboat Key, the bartender and any locals within ear shot will be only too happy to divulge local gossip.  They will likely tell you that designer Michael Kors and his husband are building a home on Longboat Key, still under construction on the island's north end.  They might also mention that the swimming pool will measure 70 feet by 20 feet.
They may ask if you noticed a bizarre structure on the ocean side, half-way up the key, encompassing three half-finished buildings. The story goes that a wealthy man gave his wife carte blanche to build the house of their dreams on one of the most beautiful quartz beaches in the world. When he saw the house for the first time he was so aghast at his wife's efforts (obviously communication was not this couple's forte), the ensuing debacle ended their marriage.  The structure is now for sale for $19 million.
The gossip-mongers might also tell you about the deranged psychologist who had her neighbor committed to a mental institution because she didn't like him or his dog.  Beneath its placid, hushed exterior, Longboat Key is roiling with dirty laundry and it is worth a night out to get the inside scoop. It will make you feel like a local.
Read "Cop's Corner"

 
The Longboat Observer, a small newspaper published every Thursday, is a trove of local gossip, upcoming events, and real estate ads, but its most compelling reading is a feature called "Cops Corner."  The Longboat Key Police Department, it seems, will serve and protect, but apparently never utter the words, "That's ridiculous.  We're not coming!"  As a result, they deal with cases like these seen in last November's "Cops Corner:"
"A resident called police because he noticed the word "JAMIE" printed in the sand beside his house. Police responded to the call and it was later determined that the yard man had printed his name."
"Police approached two cyclists riding side by side on the sidewalk on Gulf of Mexico Drive. Police asked the cyclists to ride single file and they complied."
"Police received a call from the dog park that there was a small dog in the big dog park. By the time police arrived, the small dog was back in the small dog park."
Read more about the key's ongoing crime wave in the Longboat Observer here.
_________________________________________________________
_________________________________________________________
Eat fresh seafood dock-side
There are a few expensive, upscale restaurants on Longboat Key, including The Chart House at the south end and Euphemia Haye, about halfway up the key.  But to mix it up or to preserve your budget, you can eat at a sea shanty called Star Fish Company which has the freshest, tastiest fish for a fraction of the price of the high-end restaurants.
Star Fish has been in business since the 1920s.  It is a fish market (with fish so fresh there is absolutely no odor) and a dockside restaurant.
Patrons sit at picnic tables on the dock and food is served in small cardboard boxes.  You can watch the boats bring in the catch and the pelicans hover while you savor rich, creamy stone crab chowder or blackened grouper tacos, or choose from any one of the delicious fish delights on the menu.  It's busy both at lunchtime and for dinner, they only take cash, and if your heart is set on the chowder, call ahead to make sure they have a supply—it's one of their most popular delicacies and they run out fast.  Star Fish is off the key on the north end in an area called Cortez, just over the bridge to the mainland.  12306 46th Ave W, Cortez Florida, 34215, (941) 794-1243.   
Ride a cruiser bike along the key
Most of the resorts on Longboat Key have cruiser bikes that guests can use.
The bikes are not Tour de France quality–they are heavy, clunky cruiser bikes but since the key is flat, they are all you really need.
Longboat Key has numerous side streets that run off Gulf of Mexico Drive; it is a fun ride to follow the streets down to the gulf on one side of the road and the intercoastal waterway on the other and marvel at the homes and gardens.  And if you are feeling ambitious, you can bike the entire key from end to end.
Watch out for the tiny geckos that sun themselves on the sidewalks; they are adept at getting out of the way but some of them get lazy.  Most people do not ride cruiser bikes on Gulf of Mexico Drive; it is perfectly acceptable to ride on the sidewalks as long as you are courteous to pedestrians and to the geckos.
_________________________________________________________
_________________________________________________________
Get to know an egret really well
It may surprise you to learn that these beautiful birds are actually very tame.  And, by the way, they are tired of fish.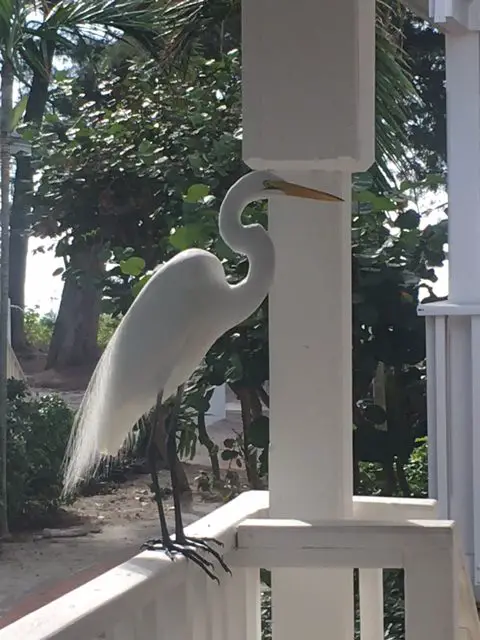 This particular egret (I named her Angel) visited at the same time every day.  She turned her nose…er, beak… up at the offer of raw fish but she couldn't get enough raw hamburger.
Angel waited for her hamburger meat every day; in fact, she got so impatient one day as I was hastily getting burger out of the package that Angel strode right into the kitchen to see how her snack was progressing.
_________________________________________________________
_________________________________________________________
Get some beach time
The beaches on Longboat Key are sea shells ground to quartz.  The resorts and timeshares have their own private beaches and most provide umbrellas and chairs or lounges that are stored in front of the resorts on the beach.  The only request the resorts have is that you take the umbrellas back to your unit when you are finished with them so they do not blow away and that you pull your lounges away from the shore line once you leave so that they do not interfere with turtle migration.
There are two public beaches at either end of the key, just before the bridges onto the key at either end, one on St. Armand's key on the south end and one in Bradenton Beach on the north end.
Where to stay when you visit Longboat Key
For accommodation on Longboat Key contact Cunningham Properties, RCI, or booking.com.  The weather in Longboat Key and the Sarasota area won't be as hot as in Naples or the Florida Keys.  Check temperatures here in Longboat Key for the time you plan to travel.
To get to Longboat Key, fly into Tampa International Airport (about 1 ½ hours away) or Sarasota Airport (about 40 minutes away).
  *   *   *
For more escapes visit BLUE HARE's Travel section.  
BLUE HARE Home