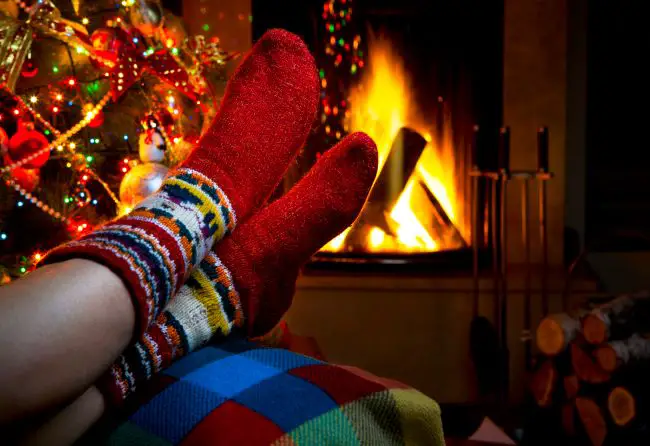 The Danish philosophy for coziness, better known as 'Hygge,' creates the perfect outlook for the holidays: slowing down, taking a deep breath, and smelling the roses (or scrumptious baked goods). There's the soft glow of candles and twinkly lights, cuddly socks and slippers, hearty nourishing meals, and spending time with friends and loved ones. It's a celebration of experiences over possessions, of being kind to yourself, and of valuing a sense of community.
Here are 10 of our favorite gifts that are sure to invoke a hygge state-of-mind.
Through our affiliate relationships with Amazon and other outlets we earn a small commission on qualifying purchases made through links of this page.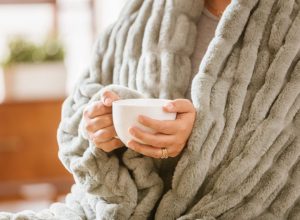 Just looking at this soft and luxurious ruched faux fur blanket makes you want to cuddle up in it.  This gift is warm and inviting and cozy.  The flip side is silk faux mink textured fabric that's velvety smooth and soft to touch.  Any couch would be proud to sport this beautiful throw.  It's sheer fur luxury without cruelty.  $50 on Amazon and Chanasya.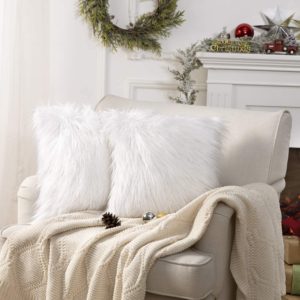 These soft pillow covers (just stuff with a matching pillow insert) create a perfect mood for burrowing inside on a cold winter's day. Made of long-haired Mongolian faux fur, they make a fun and relaxed gift to help create a hygge feeling. $10 on Amazon.
Who said Christmas lights are only for outside?  The darker days of winter are the perfect reason to string up these decorative fairy lights. These randomly designed lights look like tree branches topped with dots of snow.  Add warmth, and the spirit of hygge, to any room. $25 on Amazon.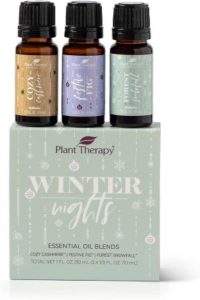 Essential oils are everywhere this Christmas and they are so in tune with hygge's celebration of nature.  These Winter Nights essential oil blends are perfect for creating a warm and cozy, hygge mood. This set includes Cozy Cashmere, a sweet, floral and woody blend; Festive Fig with the soft, soothing scent of ripening honeyed fruit, creamy wood, and a hint of spicy green; and Forest Snowfall with sweet, woodsy, coniferous scents of a snowy, winter forest.  $25 from Amazon and Planttherapy.
___________________________________________________
___________________________________________________
Remember the days when we got together to enjoy conversation with not a screen or keyboard in sight? Hygge is that feeling of togetherness, well-being and coziness with just each other to talk to.
The Hygge Game is all about bringing people together, getting friends and family to share stories and talk about the big and small things in life. This game has more than 300 entertaining, interesting and thoughtful questions designed to spark cozy conversation, and create the right atmosphere for an ultimate hygge evening. $20 on Amazon.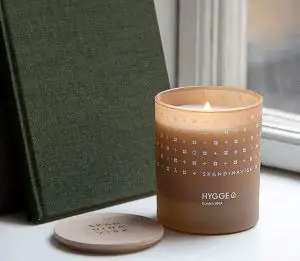 Many consider candles to be the ultimate expression of Danish hygge. A word with no translation, hygge reflects the Danish–and Scandinavian–art of intimacy, fellowship, and coziness in the everyday. This candle is a model of hygge. It's thoughtfully made from sustainably farmed ingredients and will burn for about 50 hours. Its fragrance? A heart-warming mix of black tea and mint leaves, dried apples and baked cinnamon. $45 on Amazon.
_________________________________________________________
_________________________________________________________
Hygge extends to what we wear as well.  This cashmere cocoon turns any look into a cozy escape. It is perfectly oversized with an open cowl neck, swingy sleeves, and a curvaceous hem that's long in back. Whatever you are doing, this comfortable, soft, luxuriously soft sweater made from 100% recycled cashmere will make you feel the Hygge spirit. $199 from Garnet Hill.
Close your eyes and picture a winter's night, softly falling snow and the smell of silver spruce trees.  You can have this same experience inside your house. The Silver Spruce diffuser encapsulates the magic of a snow-covered forest sparkling with the aroma of fir needles. $25 on Amazon.
Nyakers' original gingersnap cookies are made by the oldest gingerbread bakery in Sweden from a traditional recipe that was perfected in the 1950s. World Market's bestselling holiday cookie, every crispy bite is filled with a spicy blend of real ginger, clove and cinnamon. Called pepparkakor in Swedish, these thin, authentic ginger biscuits are packaged in a collectible red tin, perfect for gifting.  $15 at Worldmarket.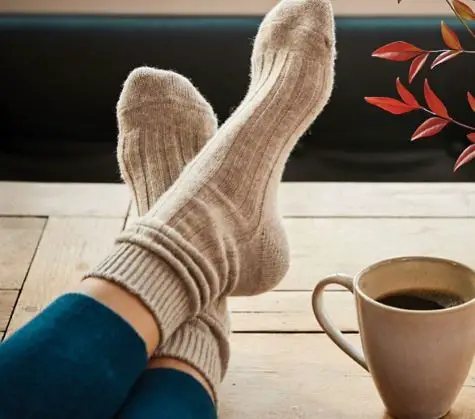 These much-loved cashmere socks are an easy way to add a little luxe to the everyday. Treat them well and you'll have them for years. The people at Garnet Hill have made sure to add a bit of nylon — and a lot of longevity — to the heel, toe, and sole. In many colors. $34.00 – $38.00 from Garnet Hill.
  *   *   *