The problem with giving chocolate as a gift is not the chocolate. It's deciding which chocolate to give. We're here to make your job easier. Our selection ranges from a jewel box of truffles to a veritable chest full of chocolates, sure to fill any woman over 60 with mirth and cheer. These gifts were especially chosen with women who love chocolate in mind.
There is only one chocolate truffle inside this festive box but we don't think anyone will mind. Teuscher's champagne truffles are world renowned and less really is more when it comes to their superb Swiss quality. Teuscher's champagne Truffles have a Dom Perignon Champagne cream center, surrounded by dark chocolate ganache, covered with milk chocolate and dusted with confectioner's sugar. The darker version is enrobed in dark chocolate and dusted with cocoa powder to give it a bittersweet note.
The box can be reused every Christmas as a decoration. Of course, you can always choose larger boxes starting with four truffles, all the way up to 72. Find these truffles at teuschernyc.com; Christmas Floral Box of one, $15.95.
For the woman who loves chocolate and tea (and don't they just seem to go naturally together?), this set of three chocolate bars is the perfect last-minute gift. Flavors include Earl Grey, Matcha and Lemon Green Tea. Enjoy your tea and chocolate at the same time! Buy them at nordstrom.com.
Trust us when we tell you that Williams Sonoma makes the best hot chocolate we have ever had the pleasure to taste. (It leads Blue Hare's list of the best hot chocolate mixes for cold winter days.) This hot chocolate is meant for a sophisticated palette, to be served in a small cup in front of a roaring fire in a quiet room where you can savor the moment. It tastes like a rich, perfect molten chocolate bar. This rich hot chocolate–the original from Williams-Sonoma–was inspired by the hot chocolate served in Parisian cafés. Buy it at Williams-Sonoma
_________________________________________________________
_________________________________________________________
What is better than receiving chocolate for Christmas? Receiving a surprise box of chocolate every month after the holidays.  The Kekao box is filled with the finest craft chocolate bars delivered right to your door each month. From rich dark Peruvian chocolate to new start-up chocolates, they'll never know what's inside. Each month Kekao curates four to five premium specialty crafted chocolate bars. For more information and prices, go to kekao.co.
Considered some of the most unique and beautiful chocolates in the world, Vosges Haut has glamorous boutiques in Chicago, New York, Las Vegas and Los Angeles. Owner and chocolate visionary Katrina Markoff flavors chocolates with unexpected ingredients (curry powder, anyone?) and packs them in boldly designed boxes. Buy them at vosgeschocolate.com.
Founded in 1950 and reinvigorated by chocolate prodigy Jonathan Grahm, Compartés gourmet chocolates are handmade from scratch every day by a small team of chocolatiers and chocolate artists. They use only fresh natural ingredients from local farmers markets in their Los Angeles chocolate kitchens and shop.
Since its beginnings, the shop has attracted celebrities, with aficionados including Marilyn Monroe, Frank Sinatra, Elvis Presley, Winston Churchill and the Kennedys. Contemporary fans include Oprah, Gwyneth Paltrow, and Drew Barrymore, to name a few. Compartés chocolates are sold online and through their trendsetting shop in Brentwood. Order them from compartes.com.
_________________________________________________________
_________________________________________________________
While the recipient of this generous chest of chocolates may be a woman over 60, she will feel the joy of being seven years old again. This is an eye-opening, jaw dropping gift–a  whole chest of Harry & David chocolate. Truffles, bars, pretzels—they are all in there. (She gets to keep the chest as well). If you want to blow someone's mind over the holidays, this is the gift. Order at harryanddavid.com.
If any chocolates deserve the description bon bons, it's these. They are meaty, succulent, and bursting with flavor. In this collection, you get 15 gourmet dark and milk chocolate truffles, ganache, caramel, praliné (almonds and hazelnut), and Single Estate Plantation chocolates. All decorations and colorings are 100% natural. These are the kinds of chocolates that you squirrel away until the company has gone and then sink onto a chaise and pop them into your mouth. Order them at barandcocoa.com.
Domori Criollo Chocolate Bars
You don't have to worry that anyone else will be duplicating your incredibly unique gift of chocolate. All three Criollo bars–Porcelana, Chuao and Guasare–come from one of the world's most precious cocoa sources, the historic Hacienda San Josè in Venezuela. For any woman who loves chocolate and is adventurous, this tasting experience offers a path to discover the prestige of fine aromatic cocoa. Buy them at barandcocoa.com.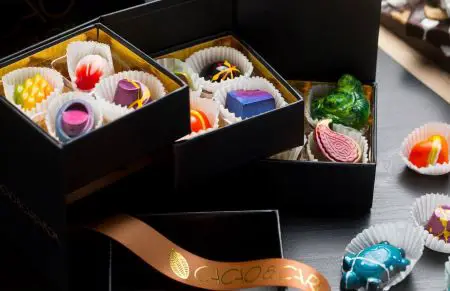 You will not believe that these beauties are actually made of chocolate. The main chocolatier at Cacao & Cardamon, Annie Rupani, of of South-Asian background, infuses a rich ganache with spices–cardamom, cumin, coriander, and fennel–and encloses it in a thin shell of chocolate. A thin layer of colored cocoa butter enrobes each piece to create a work of art.  Too pretty to eat, but a perfect gift. Buy them at cacaoandcardamon.com.
As an affiliate of select retailers, Blue Hare may receive a small commission on qualifying purchases made through the links on this page. 
 *  *  *