If there's anything that can put you in the holiday spirit and make you feel like a child again, it's the imaginary world of New York City's famous holiday window displays. Originally designed to lure people to shop—holiday sales account for some 25 percent of annual sales—these elaborate window displays draw tremendous crowds each year. Lord & Taylor estimates more than 1.5 million people look at their windows during the Thanksgiving and Christmas season, while Macy's expects some 15,000 people per hour during the holidays.This holiday tradition was started by R.H. Macy, who created New York's first holiday windows in 1874 with a collection of porcelain dolls from different countries and scenes from Harriet Beecher Stowe's "Uncle Tom's Cabin." (Macy, ever the trendsetter, was also the first to feature an in-store Santa for children to visit in 1862). It wasn't long before all the major retailers were competing to create the most eye-catching window scenes and generate the most customer traffic.
In 1993, a century after Macy's began the window decorating tradition, the city's first European-inspired outdoor holiday market was opened at Grand Central Terminal by London-based Urban Space Management. Other markets followed at Union Square and Bryant Park. The Columbus Circle Holiday Market was inaugurated in 2012.
In contrast to the department stores, the outdoor markets deal almost exclusively with small independent businesses. In a 2008 interview with the Center for an Urban Future, Eldon Scott, founder of the Union Square Holiday Market, described why the markets are popular.
"You end up with more unique and more quirky products than you would find in a traditional shopping center, where you pretty much know what the products are going to be when you enter the parking lot. We try to allow the energy and feel of the street to come out. We don't want people to feel like they're going into a store. We want people to feel like this is part of the street life of New York City. The nice thing about being seasonal is that it's once a year and can be special."
Macy's "Believe" theme evokes classic holiday scenes from childhood, Santa and the North Pole. Macy's national director of window presentation, Roya Sullivan, explains that the store wanted "to focus on the idea of what Christmas meant to us as children" and kept returning to six principles that embody the spirit and magic of the season: believe, celebrate, together, giving, love, and magic.  Macy's is located at 34th Street and Herald Square.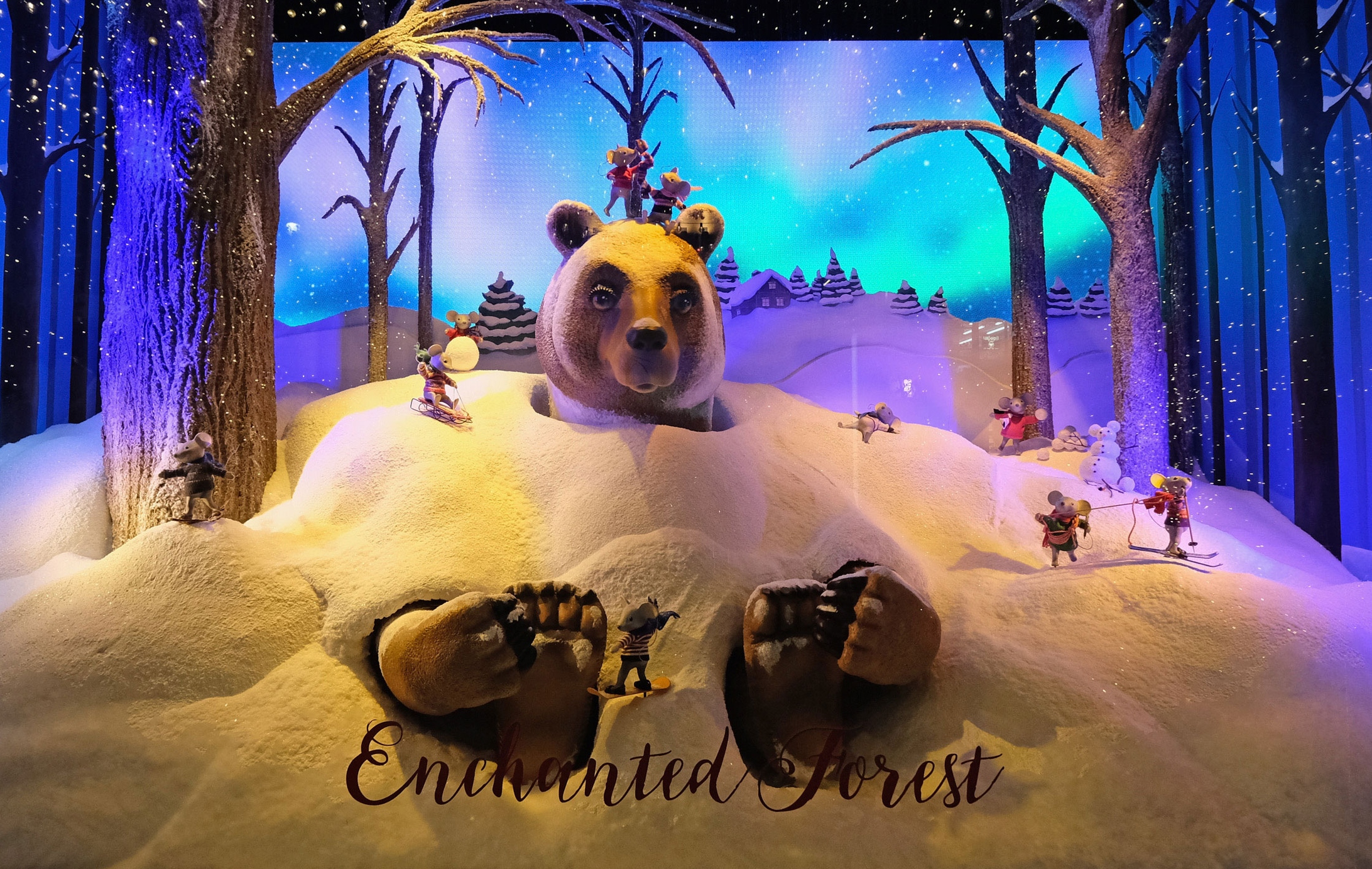 Lord & Taylor on Fifth Avenue takes visitors on a magical journey through its "Enchanted Forest." Five animated scenes include a total of 34 hand-sculpted animals—like the big bear who is also a ski slope and a pair of raccoons dancing over a den of sleeping foxes—and over 9,000 feet of garland, foliage, and twinkling lights.  Lord & Taylor's display is on Fifth Avenue between 38th and 39th Streets.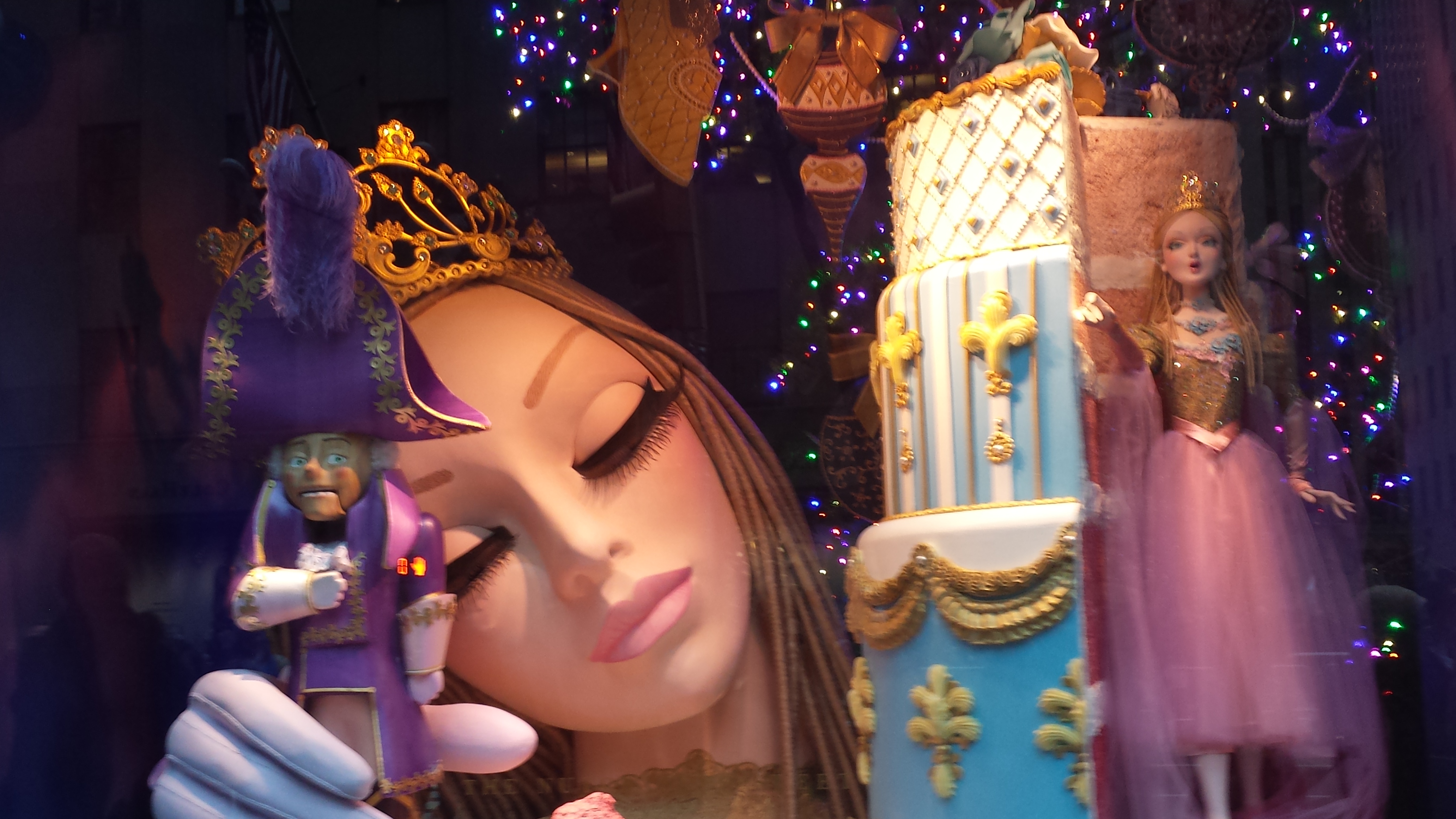 Saks Fifth Avenue's "Land of 1,000 Delights." features "Candy Couture" dresses created by well-known designers. Each fanciful dress is built from favorite holiday treats including cotton candy, peppermint sticks, cakes, and frosting.  There are echoes of The Nutcracker Suite here, too. See if you can find them. Saks' windows are on Fifth Avenue between 49th and 50th Streets.
Bloomingdale's populates its windows with shimmering chandeliers created by artists. There's a sculpture of prisms by Sean Augustine March, a vision of underwater life created with glass mosaics by Brooklyn-based Allison Eden, and a swirl of neon by Erika Devries. When the season ends, the chandeliers will be auctioned off on charitybuzz.com. All proceeds will go to The Child Mind Institute.
Tiffany & Co.  There was some concern that heightened security near the president-elect's home would interfere with this year's light show. While the unveiling event was canceled, the iconic windows are on view through the season. This year's display features a picnic in Central Park, Rockefeller Center with its magnificent tree and the Manhattan skyline floating along the Hudson River, all designed using Tiffany jewels. Tiffany's windows line Fifth Avenue below 57th Street.
Bergdorf Goodman. "Destination Extraordinary." Each window celebrates a different fantasy, setting its theme in nature: glamorously bedecked women strolling through lagoons, jungles, forests, a tree house, and the desert. Bergdorf Goodman is at Fifth Avenue and 58th Street.
Winter Village at Bryant Park
The Winter Village at Bryant Park is a large market of more than 125 shops and artisanal boutiques located behind the New York Public Library in Midtown Manhattan. This market features artisans from around the world.  You'll find exquisite gifts, including distinctive apparel and jewelry, decorative goods, and local foods. And, there is free ice skating at the park's 17,000-square-foot outdoor rink – just remember to bring your own skates.  The Bryant Park Winter Village is located between 40th and 42nd Streets, and Fifth and Sixth Avenues.
Union Square Holiday Market
Located on the south side of Union Square, more than a million shoppers—New Yorkers and visitors alike—annually visit this market. Well over 150 vendors sell artisanal foods, holiday ornaments, handmade jewelry and clothing, and children's toys under the classic red and white striped tents.  There is a dedicated "Little Brooklyn" section with specialties from this borough. You will find one-of-a-kind gifts like handcrafted bowls, winter accessories (scarves, hats, and gloves), artwork, candles, and soaps. And, if the cold whets your appetite, there is Persian soup and rich hot chocolate, chocolates and nuts, specialty pretzels, cheeses, and waffles at your fingertips. There are gourmet pantry items, small-batch jams, and all natural olive oils, including certified organic and fair-trade goods, and ones that are recycled and made in New York. Read more on the Union Square blog.  The holiday market is located along the southwest corner of Union Square, 14th Street between Broadway and Park Avenue.

Columbus Circle Holiday Market
Located at the entrance to Central Park, at 59th street and Central Park West, this is a somewhat smaller market than Union Square or Bryant Park. Still, it is easy to get lost among the sparkling booths of art, jewelry, home goods and delicious foods from local artisans and designers.
Remember to come with an empty stomach so you will have room to enjoy the market's many treats. Possibilities include Nutella-stuffed churros, savory empanadas, red velvet macaroons, Turkish street food, raspberry-matcha sandwich cookies and black forest cakes, gelato, tacos, and jerky. The market takes pride in its emphasis on sourcing socially-conscious goods. Many vendors are committed to the Artisan Pledge of 100% handmade, made in NY or in the USA, made from recycled, reused, or vintage items, organic and/or fair-trade certified, local store or local farmer.  Find this market at 59th Street and Central Park West.
 Grand Central Terminal Holiday Fair
For six weeks, historic Vanderbilt Hall in Grand Central Terminal transforms into a holiday wonderland. The fair showcases unique and local craftsmanship, as it has since 1993. The organizers encourage vendors that focus on American-made and handmade products that use locally sourced materials or a socially conscious business model.  There are countless beautiful goods. A sample includes artwork and children's toys, holiday-themed items, bath and body products, and handcrafted jewelry and accessories.  With the Great Northern Food Hall on the west side, you can enjoy foods from the four Nordic-inspired food pavilions and bar. And, in the spirit of giving, some vendors are donating a portion of their profits to support good works and good causes. The entrance to Grand Central's Vanderbilt Hall is on 42nd Street between Vanderbilt and Park Avenue.