Styles and new looks in makeup will always come and go. Consider the near black lipsticks and nail polish of recent years. Remember the trend to pencil-thin eyebrows, followed by an ultra full brow look? The list goes on. More important than any particular fashion is how you can adapt it so it works for you. The hot trend in makeup this fall is to use deep burgundies to accent eyes and lips. Can this look work for the 60+ woman or will she appear too made-up and dramatic?  We'll show you how you can liven up your face and accentuate your eyes using a few variations and strategically applied burgundy hues.
The burgundy makeup look is stunning, mysterious, and dramatic. Yes, we probably won't want to apply the strong color seen on the model below—our skin is less smooth and our features less firm than those of a younger woman. Still, burgundy eyes and lips are truly the look of the moment.  Burgundy makeup is bold and flattering.  Burgundy perks up a tired face and adds life.  If you have green, gray or deep brown eyes, you are going to love what burgundy eye makeup can do for you.
So wrap yourself in a beautiful sweater, put on your burgundy makeup without apologies, and face the cooler weather and richer tones of fall.  We show you how to do it so you look thoroughly modern and stunning.
Simple rules to use burgundy over 60
For your eyes
You will notice in this photo that the model uses a dark sweep of burgundy in the corner of each eye, a cat's eye of liner and false eyelashes.  We are going to follow the same general technique—but without all the drama.  We have adjusted the application to achieve a more natural look for the over 60 woman.
All over your eyelid, use a neutral shade that complements burgundy, like a pink or beige.
Little Beige Dress is a very flattering shade of pink beige.  It has the quality of a far more expensive shadow—there is virtually no fall-out and it wears extremely well.
On the outer corner of the eye only, after applying your pink beige base, it's time to use your burgundy shadow.  You will not want to apply the burgundy all over your lid.  Not only is this look too heavy, but too much concentrated red-tone can make it look as if you have been crying or didn't get a good night's sleep.
Your burgundy shadow should go on the outer corner of your eye and in the outer crease.  Start with just a touch on your brush and see how it looks.  You can always build to intensify the color if you haven't applied enough—it is much harder to remove pigment, however, if you have applied too much.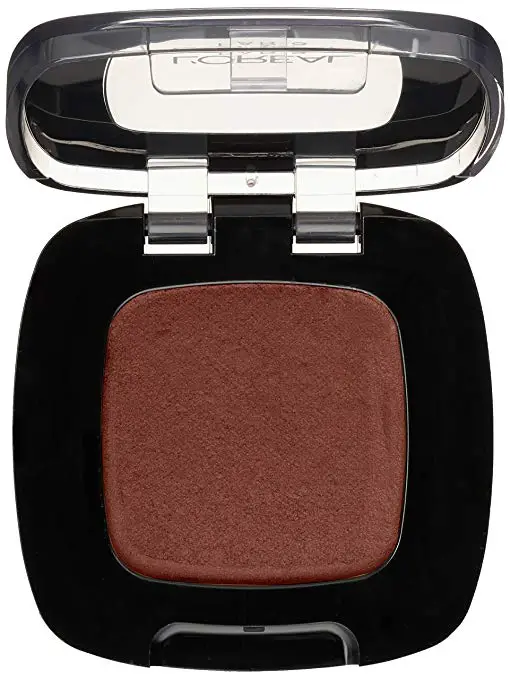 Now blend the burgundy shadow. Blending is an important step in applying eyeshadow. It will give you a polished look even if your initial application of eyeshadow was less than perfect.  You can banish any splotches of uneven color or harsh lines by blending.  Choose a blending brush that isn't too soft or too stiff. Take your brush and blend the burgundy eyeshadow so that you don't see a line where it ends.  When you are finished, you should just see a hint of the color.  Always blend up and out—never blend down.
We like the ELF Studio Blending Brush
    (Amazon.com, $5.39)  not only because it is well-priced but because its quality truly rivals that of brushes that cost many times more.  This brush has exactly the right consistency between firmness and softness.
Yes to burgundy mascara. (We're not kidding.) The most eye-opening part of my research—no pun intended—was discovering burgundy mascara.
I had always believed that black mascara was an effective way to accentuate lashes.  And frankly, the thought of colored mascara always seemed a bit brash and over-the-top.  But the burgundy mascara I purchased was a revelation–so much so that it has become a staple in my makeup bag.  I have to admit I only tried one and I was so pleased with it, I haven't found the need to experiment further.
This mascara is soft, easy to apply and remove, wears well, and makes lashes look long and thick—but it's that gorgeous color that has made me a convert.  With just a couple of swipes of the wand, you can frame your eyes with long, lush lashes in a color that contrasts just enough to make your eye color stand   out, but not enough to be obvious.
Clare, 67, before burgundy eye makeup…
…and after burgundy shadow and burgundy mascara
The burgundy shadow accentuates her green eyes to make them appear more vibrant and well-rested.  The burgundy mascara makes her lashes still look long and lush, and projects a subtly softer look than black mascara.
For your lips
Burgundy lips do work for us.  But there are a few simple guidelines to follow for the best results:
Matte is not for us: If you look at the plump, unlined lips of our young model you will see how gorgeous matte lipstick looks on her.  Alas, matte is very unforgiving.  It shows up every crack and line.  However, there are different finishes for lipstick so you can choose one that works for you.  When you're over 60, you need to choose a lipstick that reflects light.  A glossy, shimmery (not the old frosted look) works better for us.
Use a lip liner: Choose a lip pencil in the exact color of your burgundy lipstick so that a line around your lips is not obvious. The sales assistant at the beauty counter where you buy the lipstick will be able to help.  Do not be tempted to go lighter or darker with the lip liner—the color needs to be an exact match!  This is important.  It shouldn't appear that you are wearing lip liner—only that you have a very precise, well defined lip line.  You can only do this with a pencil.
Apply your lipstick in a magnifying mirror: Notice we didn't say apply your lip liner first.  You apply the lipstick as close to your lip line as you can.  Then, with a very sharp point on your lip liner, draw a line around the natural boundaries of your lip line.  (The lipstick will help the liner to flow smoothly).
If your lips are thin, use your lip liner to draw a line just outside the line of your natural lips: We almost hesitate to suggest this, since you really have to know what you are doing to pull this off.  If you are immediately put off by the results, or if you get funny looks, this look isn't working for you.  But if you receive genuine compliments on you appearance, carry on.
Burgundy lipsticks we like
Tom Ford Ultra-Rich Lip Color in Purple Noon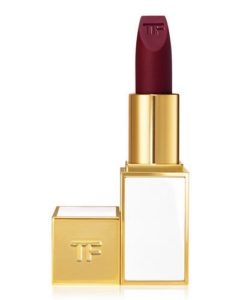 , Amazon.com. $53.00
This deep hue from the multi-talented designer Tom Ford not only delivers rich color that can outlast a meal or two but it also delivers maximum hydration.
Nars Audacious Lipstick in Bette
, Amazon.com. $32.00
Nars lipsticks have a creamy texture that will soak right onto your lips in one swoosh. This wine-colored shade might feel like fall but it works year-round.
Revlon Super Lustrous Lipstick in Naughty Plum,
Amazon.com, $8.00
This lipstick is a drugstore throwback and a classic.  This universally flattering burgundy shade provides just enough shine and color at the same time.
Putting it together
When you are young, you can pull off a fully made up, dramatic face using burgundy makeup like the model in the photo above. But as you age, you are wise to make the choice between highlighting your lips or your eyes because if both are dramatic, it is not flattering. That look tends to come off as overdone rather than stunning.
In our article, "Can women over 60 wear red lipstick? Yes, and we show you how", we advised readers to keep eye makeup minimal to play up red lips. The same is true for burgundy lips. That doesn't mean you can't wear your burgundy eye makeup and lipstick at the same time. It just means that you should use a lighter hand to highlight one rather than both. In other words, if you are going to highlight your lips, use minimal burgundy eye shadow and mascara.
If you want to be more dramatic with your eyes, use a light sweep of burgundy lipstick and then soften it with a light-reflecting gloss so you don't see a solid swipe of color.
A final word
Burgundy makeup may well end up being your staple color.  Just remember that less is more.  As ever, your goal should be to achieve a wash of color, not color that screams, "Look.  I'm wearing burgundy".  You may be surprised when people who rarely take notice start telling you how great you look.
Top photo:  A splash of Color Sensational® Creamy Matte Lipstick in Burgundy Blush, maybelline.com
 *     *     *
You might also like
…and even more on the BLUE HARE website.