There's no better time than the present to head out and scratch a few places off your bucket list.  Whether traveling on your own, with a partner or friends, our list of travel apps will help set you confidently on your way.  All apps are free to use and come in iOS and Android formats to download from Apple's App Store or Android's Google Play.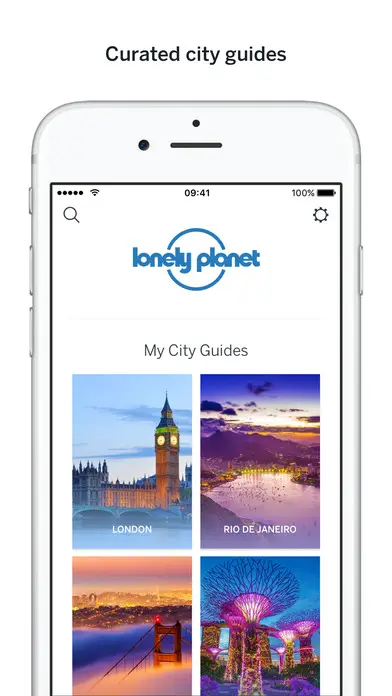 According to Tony Wheeler, cofounder of Lonely Planet, "All you've got to do is decide to go and the hardest part is over."  With that bit of advice, Lonely Planet invites you to 'Discover your Destination' with over 165 city guides.  Start with Barcelona, Cape Town, Edinburgh, or Beijing.  Well known for its budget travel recommendations and down-to-earth style, Lonely Planet inspires us to hit the road with ideas on what to see and do, where to stay, and what to eat.  The guides are packed with offline maps – the better to avoid roaming charges when traveling; audio phrasebooks with more than 10,000 phrases in umpteen languages; a currency converter; and plenty of advice for before and during your trip.
TripAdvisor has been one of our go-to sources of travel information for a long time. With a whopping 350+ million traveler reviews, opinions, videos, and photos, it's easy to map out a trip to Edinburgh or Machu Picchu or wherever. You can find competitive prices for rooms—it shops over 200 hotel booking sites to find the best prices—and offers 300 city maps for free download, which helps avoid roaming charges. The forums feature is a lifesaver for getting travel advice at the last minute and 'Near Me' as been a help in finding a place to eat or check out when on the road. TripAdvisor is an exhaustive source of information that'll enable you to travel with confidence. Or as the good people at TripAdvisor insist– Know better. Book better. Go better.
This travel app promises to inspire our next travel adventure.  The Trip.com community has discovered millions of amazing things to do. What distinguishes this search engine is its invitation for travelers to designate 'tribes', that is, travelers with similar tastes.  You can select as many or as few as you like among 20 interest groups.  Join Art & Design Lovers, Green Travelers, History Buffs, Solo Female Travelers, or Foodies. As a member of a tribe, you'll find advice, recommendations, and ideas from other like-minded travelers. You also can find ideas for things to do depending on the weather. There are plenty of insider tips on this community-powered review site that's been named to the best travel app lists of Time magazine and Travel & Leisure.
Imagine just getting into your car and taking off with a close friend or two. No need to hassle with flights or airport security. This app can help you plan that road trip of a lifetime to anywhere in the U.S.  The possibilities are truly inspiring–what to do in 48 hours, national park visits and scenic drives, trips down the interstate, movie filming locations, and ghost guides to places where you may even see a spirit or two.  Plan your road trip on the web app or mobile app then share them with your travel companions to coordinate itineraries and ideas. The app even estimates how much time it'll take to get from one place to another, a great perk although it can draw down your battery pretty fast. The web site is excellent and truly inspiring. The phone app had some kinks which they say have been worked out.
Feeling confident you've locked in the best price on flights can be tricky—much like negotiating for a used car in years gone by. How can you be sure of the best fares when prices vary so much?  Enter Hopper. Hopper not only lets you book flights on your phone, it tells you when to do it and how to get the best price. Once you've searched for a flight, the app will let you know whether to buy your ticket or wait. If it's better to wait, you'll be notified when the price drops. The app can do this based on its archive of literally trillions of flight prices, which its developers claim gives predictions with 95% accuracy and you the ability to save up to 40 percent on your next flight.  It made Apple App Store's Best of 2015 list and was a 2016 Google Play Award winner.
HotelTonight promises to find great hotels via "10-second, 3-tap bookings." Although you can search for deals up to a week in advance, the best rates appear at noon on the day you check in. Hotels are described as basic, solid, luxe, high roller, charming, and hip. A search for hotels available on June 21 in NYC, offered the following:  the Sheraton Tribeca New York (solid) with a rate of $162 down from $377, the Michelangelo (luxe) for $245, down from $599, and the Dream Midtown (hip) at $234, down from $350. And these were just a few of the possibilities.
It lists essential information for each hotel, including address, free Wi-Fi, parking, and room service. It also tells you how many others are currently considering it. Its user ratings are also helpful. And we particularly appreciated the "Why We Like It" section to get a flavor for the property: "Richly decked-out rooms are huge—and not just for NYC. Feels like stepping into a quiet Italian hideaway despite its proximity to everything Midtown."
Some more very useful apps
Airline apps
For that added layer of assurance and confidence when traveling, we always download our airline's app prior to leaving. Yes, we still have a paper print-out of our boarding pass handy but having the airline app alerts us to any changes in our departure time or gate and helps us avoid undue stress at the airport.
Your bank app
Unfortunately, not all banking apps are created equal. Still, one of the best things to keep in mind while you travel is access to your finances. Can you afford to splurge on that once-in-a-lifetime find or is it better to keep on walking? Not only is a banking app useful for budgeting and keeping track of purchases, it can be a lifesaver if your cards are lost or stolen. Consider switching to a bank that has a reliable app if yours doesn't.
Accumulating all your offline maps, movies, books, and travel photos on your mobile device is sure to stretch its storage capacity. The solution? A cloud storage app like Dropbox to offload files when unused space gets low. Few things are more annoying when traveling than having to take time out to delete old photos to free up space.  Using a cloud app will ensure that you don't miss out on memorable photo opportunities.
Google Translate makes it easy to understand and communicate in more than 100 languages–even ones that use other characters (think Greek or Russian). You can do a near 'simultaneous translation' using your phone's camera. Take a photo of any writing and the app will automatically translate it for you. If you don't want to take a photo, you can draw characters on your phone's screen to translate them. You can also download an offline translation guide in advance so that you don't draw down your data bank while on the road.
With Wi-Fi so readily available around the world, using a Wi-Fi based calling service means you can call home without roaming charges or plan extensions. Most wireless video and audio calling apps, like Viber, also have messaging that won't use your phone data or texting plans.
WhatsApp has more than a billion users, making it a very useful way to communicate with friends you meet. It's also a great way to text the people back home or share photos of your adventures. You just need a data connection or Wi-Fi and you're in business.
This currency converter app is continuously updated to give you live exchange rates for every world currency. It also functions offline by saving the last updated rates. This is great if you're somewhere with limited connectivity or trying to save on data charges.
   *     *     *     *