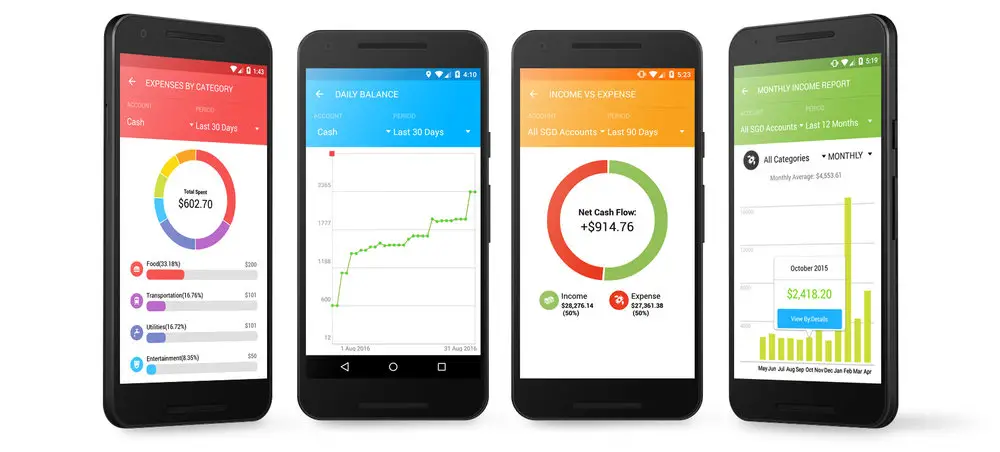 Remember the days when we had a regular income and didn't need to be so careful about our finances?  Well, times have changed. It's likely we're living on more fixed resources and need to monitor our spending more closely.
While we may have more time on our hands, we don't want to be sorting through a pile of crumpled receipts, trying to make sense of them. There are so many other things we'd rather be doing.  Fortunately, the smart phone comes with a host of simple budgeting and finance apps. They were designed to help manage spending and maintain order on the financial front.  We selected a few we are confident will make your financial life less stressful and perhaps even enjoyable. Since security is ever a concern, we've included a word on how each app protects your information.
Mint from Intuit, creator of TurboTax and QuickBooks, is definitely one of the most popular and easy-to-use personal finance and money management apps. Simple and user-friendly, it offers a convenient way to cover all financial bases in one place. Create a budget, track spending and pay monthly bills, get your credit score for free, apply for a new credit card and keep tabs on investments.  It will send you payment reminders to help avoid late fees. Also, based on your spending, it offers suggestions for gaining more control over your budget. Your data is safe–Mint uses the same encryption standards as banks. Mint is excellent for managing your daily finances.  It's free for both Android and iOS versions.
While Personal Capital provides help with expenses and cash flow, much like Mint, its real strength is in helping users understand and manage their investments and build net worth. And if your net worth is over $250,000, it even offers wealth management at a cost-effective price. The only real downside of Personal Capital is that its budgeting tools are not quite as robust as Mint's. Or, as investor 'junkie' Larry Ludwig writes, Personal Capital is an investment platform with limited budgeting or billing capacity while Mint.com is a budgeting platform with little investment support. With over 1.6 million people using its financial software and free tools to track their personal finances, Personal Capital is well worth checking out. Highest priority is on keeping your financial data safe and secure, using multiple layers of security and website encryption that's been awarded a stronger rating than most major banks or brokerages. It's free for both Android and iOS versions.
3.       PocketGuard
PocketGuard is a bank account tracking and budget management app. It connects to your bank accounts, credit and debit cards. It syncs your loans, savings and investment information to give you a full picture of your finances.  You can safely and easily view your accounts and transactions through an encrypted connection. The app automatically sorts your purchases, subscriptions, and bill payments and factors in what you've spent to give you an estimate of how much you can safely spend. It also helps you secure the best rates with all your monthly providers with discounts of up to 25% for Comcast, AT&T and many others without ever leaving the app. Currently available in the US and Canada. Both Android and iOS versions are free.
4.       Wally
Wally describes its approach to personal finance as "Seamless, intuitive money management." Its goal is to consolidate your financial information in one place so that you have a "360" view of your finances. You can quickly create and view expenses, keep track of money saved and financial goals. Instead of logging in expenses, you simply take a photo of your receipts. Wally is convenient and easy to use and is the "#1 Finance App in 22 Countries." It uses 128-Bit SSL and AES encryption to keep data safe and has been security verified by Intuit and McAfee. Need we say more? It's free for both Android and iOS versions.
Clarity Money wants to be the "Champion of your Money." This free personal finance app helps you manage your budget and save money through a mix of technologies that includes artificial intelligence (AI). It analyzes your finances, and then works to improve them. Once you've linked your bank and credit card accounts, it analyzes your spending behavior, identifies ways to save money, often with discounts and coupons, highlights subscriptions that are not being used (and you can cancel), and helps you create a budget. Numerous safeguards protect your data including encrypted data transmission using Transport Layer Security (TLS) 1.2 and encrypted storage of sensitive information. It was recognized as Best of 2017 by Google Play and "New App We Love" by Apple. Available in both Android and iOS versions.
6.       Expense IQ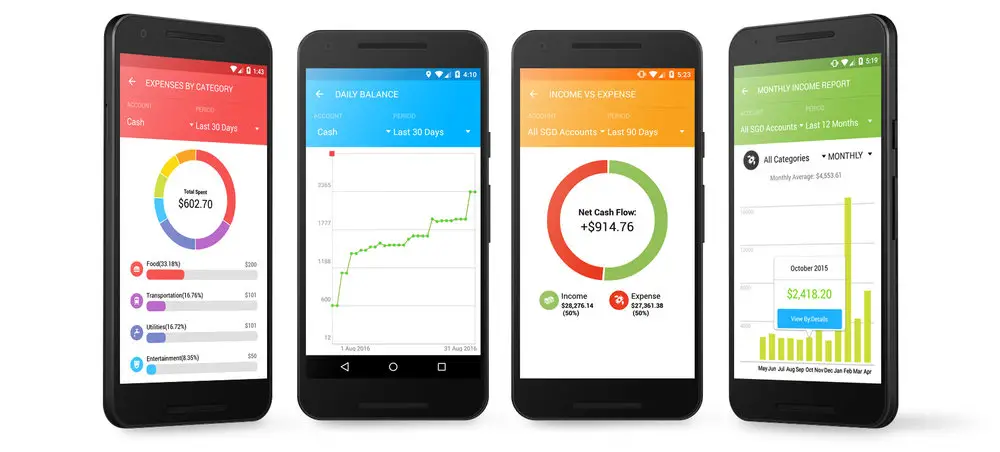 Expense IQ (formerly EasyMoney) is all about managing cash flows. It combines an expense tracker, budget planner, checkbook register, and bill reminder to help manage expenses, create monthly budgets, and understand spending through more than a dozen reports you can adjust to meet your needs. It even issues a warning when you are at risk of spending more than you've budgeted. You can sync across several devices, share financial information with family members, and protect your data should your device be lost or stolen. Striving to be the "world's money manager," Expense IQ supports over 30 languages and more than 150 currencies. This free application is available only in Android.
7.       Acorns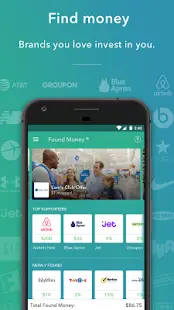 Acorns (Android, iOS) brings micro-investing to your fingertips by sweeping spare change from purchases and investing it in exchange-traded funds (ETFs). First you provide your bank account and card details. Then you complete a questionnaire so the app can recommend ETFs that align with your financial situation and investment risk profile. You can also set up one-time and recurring investments. Rather than charging per transaction, Acorns charges a small monthly fee of $1 a month for accounts less than $5,000, or 0.25 percent per year for accounts greater than $5,000. Five portfolios with investment strategies that range from conservative to aggressive were developed with Nobel Prize-winning economist Dr. Harry Markowitz. And if you shop with Acorns' Found Money partners, you'll receive "cash forward"—the new cash back– in your Acorns account. Partners include Airbnb, Apple, Groupon, Barnes & Noble, Macys, Nike and Sam's Club. Acorns app security uses SSL 256-bit encryption, will contact you should there be any unusual activity and has servers and privacy measures comparable to bank-level security. Acorns is available in both Android and iOS versions.
You Need a Budget (YNAB) follows four simple rules for managing your finances—give every dollar a job, embrace your true expenses, roll with the punches, and age your money. Simply put, generate income, decide your spending priorities, put aside money each month to take the stress out of big or unexpected expenses, and, when you do overspend in one area, downshift your spending elsewhere. The goal is to have the financial resources to pay off expenses as they occur without having to shuffle your finances to make a payment. YNAB aims to take the emotion and stress out of financial commitments by helping you make a plan and follow it. While the culture of this app targets a younger, wage-earning cohort, its philosophy and approach apply to all age groups. YNAB promises to keep information encrypted and secure and has posted a comprehensive statement of its security practices.
You can try YNAB for free for 34 days, then it's $6.99 per month or $83.99 annually. YNAB is so confident that its users will benefit—with the average user saving about $600 per month the first year—that it offers a No-Risk 100% Money-Back Guarantee. Available in both Android and iOS versions.
Looking for something to do with your savings? Try a summer program at Cambridge, Oxford, or the Sorbonne.   
Find more articles on the BLUE HARE homepage.