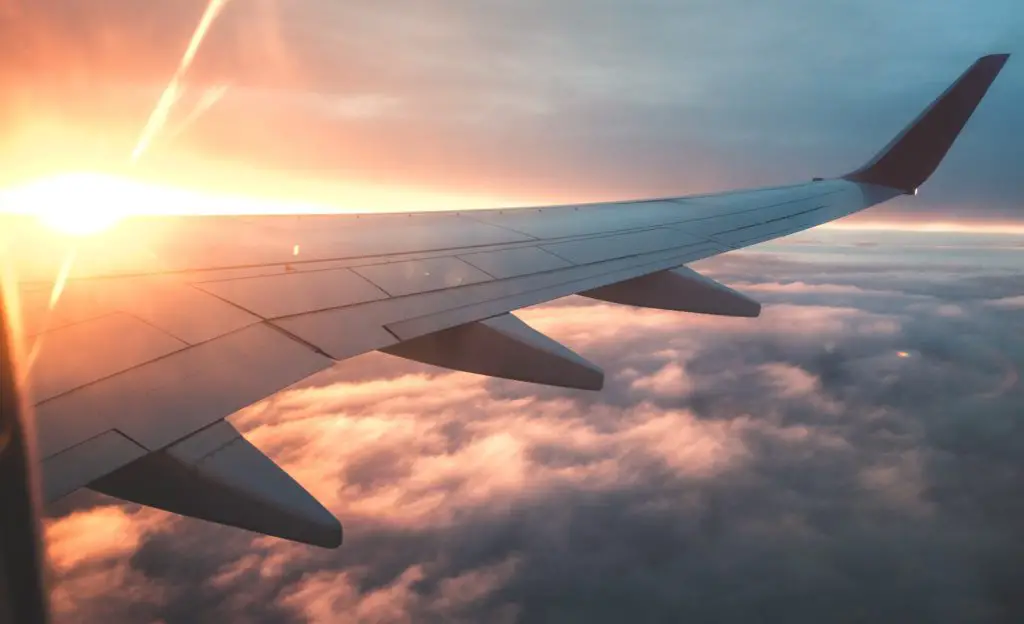 We've got the travel bug. If you're like us, you want to bring everything you need to look great, be safe, feel comfortable, and meet all the TSA and airline requirements. And it all must fit in a space smaller than a kitchen sink. We get it. And while we can't help you decide which pair of shoes to leave behind, we did find some great travel accessories that will help make your traveling smart, safe, and stylish. Bon voyage!
ACCUOZ DIGITAL LUGGAGE SCALE WITH LCD BACKLIGHT (BLACK), $9.97
4.5 out of 5 stars  *  181 customer reviews
S
truggled to balance your luggage on the bathroom scale trying to weigh it? Or perhaps you've had to reshuffle things from one bag to another at the airport to avoid paying overweight luggage fees? This portable luggage scale is a simple solution. It weighs bags up to 110 lbs/50kg with near perfect precision and has a nylon strap so any suitcase can be weighed. It's backlit for easy reading and comes with a thermometer (F, C) so you'll know how to dress.
LUGGAGE TAG INITIAL BAG TAG – FULLY BENDABLE TAG WITH STAINLESS STEEL LOOP, $7.00
4.7 out of 5 stars  *  354 customer reviews
We've all been there–waiting at the luggage carousel for a black suitcase as umpteen black bags, each identical to the next, pass us by. With this sturdy rubber luggage tag with large brightly colored upper case initial your bags stand out from the rest.  It attaches with a steel loop and has a privacy back cover that shields contact information from casual view.  It's not only great for distinguishing suitcases but can be used for carry-on bags, gym duffels, and briefcases.

MONEY BELT FOR TRAVEL WITH RFID BLOCKING SLEEVES, $18.89
4.8 out of 5 stars  *  2,028 customer reviews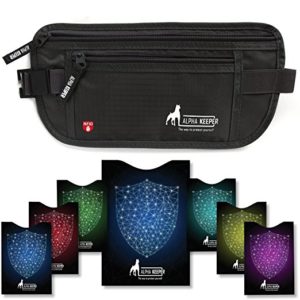 Nothing puts a damper on travel faster than having your valuables–passport, currency, and credit cards–stolen. Fortunately, there's a simple way to protect against both savvy identity thieves and the nimble pickpockets of the crowded metro or marketplace. This RFID-protected money belt is so lightweight you'll forget you're wearing it.  There's room for money, passport, credit cards, tickets, mobile phone and more and it comes with seven extra RFID blocking sleeves to protect your passport and credit cards when stowed away in your purse or backpack. Choose from six colors.
RAINCAPER RAIN PONCHO FOR WOMEN – REVERSIBLE WATERPROOF HOODED CAPE IN GORGEOUS ULTRASOFT COLORS, $69.99
4.5 out of 5 stars  *   16 customer reviews  
We think it's so much easier to pack a poncho instead of an umbrella when we travel. This rain poncho by RainCaper is just the thing. It's waterproof and reversible, with a soft luxurious feel and hidden magnets that make quick sleeves an easy on/off.  It's fully waterproof and machine washable.  One size fits most and you can choose from 19 designs. Our choice? The poncho with Maurice Prendergast's "Umbrellas in the Rain." It comes in an 8" x 10" travel pouch with snap-on strap so you can attach it to your bag.
TSA APPROVED TRAVEL COMBINATION CABLE LUGGAGE LOCKS FOR SUITCASES – 2 PACK, $12.99
4.6 out of 5 stars  *  1,133 customer reviews
Practical gadgets that perform multiple roles make us happy when we travel. These bright orange locks not only secure your luggage, they make them easier to spot at baggage claim or in a hotel's storage room. These TSA approved combination locks are designed to be strong and reliable.  With high strength zinc alloy lock bodies, hardened steel shackles and patented internal mechanisms, they withstand so much force that they have a 100% lifetime warranty. You set the three digit combination for extra security and the flexible steel cable helps you thread the lock through all types of luggage zippers.
THE CARRY-ON BY AWAY TRAVEL, $225.00
4.9 out of 5 stars  *  485 customer reviews
This is the new "IT" bag. Just when you thought you'd nailed your luggage needs, here comes Away Travel, with the perfect carry-on.  Committed to "Thoughtful Luggage for Modern Travel," this unbreakable, airline compliant carry-on has everything for a short trip or long weekend away. It holds three to four days of clothing and comes in six smart colors. A removable interior battery and two USB ports make it easy to recharge a phone or laptop while you're waiting for Uber, and four 360° spinner wheels make transit a breeze. It even has a TSA-approved combination lock built right into the top, a plus if you need to gate-check your bag at the last minute. The Carry-On also comes in a slightly bigger version ($245). Life just got easier.
DELSEY LUGGAGE HELIUM AERO EXPANDABLE 29" SPINNER TROLLEY IN COBALT BLUE, $109.10  
4.4 out of 5 stars  *  500 customer reviews
With the Helium Aero's light 12.9 pound weight, you can stock up on those Swiss chocolates you love or buy a special pair of shoes or two, confident that you won't tip the airport scales on your return. Its scratch-resistant, glossy polycarbonate exterior is durable and stylish. Open-book styling with one zippered compartment and one open section with straps make packing easy. It is easy to handle with padded side and top grips and four twin spinner wheels. It even has an integrated TSA-approved combination lock. And the icing on the gâteau?  It was named to Travel & Leisure's 2017 list of best lightweight luggage.
TRAVELAMBO RFID BLOCKING PASSPORT HOLDER & TRAVEL WALLET, $12.99
4.6 out of 5 stars  *  671 customer reviews

Clever
 thieves using the latest skimming technology to steal personal information from passports and the credit cards in our wallets—a terrible way to ruin a vacation or even a simple walk down the street. A new line of RFID blocking passport holders includes a wallet for currency and pockets to keep your passport and cards safe until you whip them out for that impulse buy.
BAGAIL 4 SET PACKING CUBES, Travel Luggage Packing Organizers with Laundry Bag, $21.99
4.8 out of 5 stars  *  1,239 customer reviews
There are very efficient packers who can throw a few items in a carry-on bag and be set for two weeks on the road. Then there are the rest of us, which is where packing cubes come in. Travelers who have used the cubes were able to pack more things in an organized way. As one Amazon reviewer reported, "I packed a small suitcase the way I would without these cubes, then unpacked and repacked with the cubes. The result of my experiment: It does indeed save me space, and good bit of it."
CALORMIXS HANGING TOILETRY COSMETICS CASE FOR TRAVEL, $11.99 – $20.99
4.6 out of 5 stars  *  84 customer reviews

This bag gets high marks from reviewers for the surprising amount of *available space despite its smaller profile, allowing for several full-size products to be packed. The water-repellent interior keeps it clean and dry. And 10 different color patterns give you plenty of opportunities to express your personality.

BABYLISSPRO TOURMALINE TITANIUM TRAVEL DRYER, $34.99
4.2 out of 5 stars  *  2,073 customer reviews
Even those who consider themselves to be 'low maintenance' when they travel don't want to go outside with damp hair on a chilly day. Enter the BabyBlissPRO Tourmaline Titanium travel dryer. This compact 1000-watt dryer is a powerhouse and, unlike so many travel dryers, it works as well abroad as it does at home, taming frizzy, unruly hair so you look your best  As one reviewer writes, "This is an actual travel dryer for actual travelers. The ones who pack light, never check a bag, but still want to look good on the road."
BESTEK TRAVEL ADAPTER 220V TO 110V VOLTAGE CONVERTER WITH 6A 4 USB PORTS AND UK/AU/US/EU PLUG ADAPTER, $45.99
4.1 out of 5 stars  *  1,957 customer reviews
What do you do when you arrive at your destination and go to turn on your lap top or use your mobile phone—and the battery is dead? This compact adaptor/converter is made for just these situations. It can convert any country's voltage to US standards (110V) to charge devices safely when traveling. With four USB charging ports and three sockets you can charge multiple devices at once—incredibly valuable when you realize that Tuscan farmhouse you rented only has two sockets. And, this power converter has over-current, high-temperature, short-circuit and surge protections. As with most power converters, they'll blow out if you try to use with your hair dryer, hair straightener, or curling iron.
*     *     *
Please note:  Prices  can vary day to day so the prices quoted here are those that were listed between May 28 and 31, 2017. Blue Hare is an Amazon affiliate. As such we receive a very small (so small) commission on anything you purchase through our site. For which we are very grateful.   
Top photo credit: Nikolay Popov