River cruises have been around for a long time but they are all the rage right now.  Maybe it's the trend of seeking out smaller scale, more authentic, artisanal experiences.  Or perhaps it's that baby boomers, many retired and looking for hassle-free adventure travel, are taking another look.
Demand for river cruises has been increasing. Cruise lines will launch 13 new river cruise ships this year in response to higher passenger bookings, according to Cruise Lines International Association's (CLIA) 2017 State of the Cruise Industry Outlook.  Interest in river cruising has been on the rise since 2010, with cruises this year up about 7 percent over 2016.
One reason is the convenience involved in river cruising.  Writing about her experience on a Uniworld cruise on the travel site Landlopers.com, the author confesses, "convenience and unique access are the two main reasons why I recommend river cruises. Unpacking once is a luxury most visitors to Europe know nothing about, but for me it's a great reason to join a cruise. Settling into my cabin and having a home base, while still exploring different towns and cities is a luxury in its own right and shouldn't be underestimated."
River cruises tend to be cultural, experiential, educational, and scenic. As the CEO and founder of Viking River Cruises, Tor Hagen, states, "I like to say that ocean cruising is a drinking man's cruise. River cruising is a thinking man's cruise."
How do you decide if river cruising is for you? Here are some things to consider before you book.
River cruises are an easy, hassle-free way to see Europe for the first time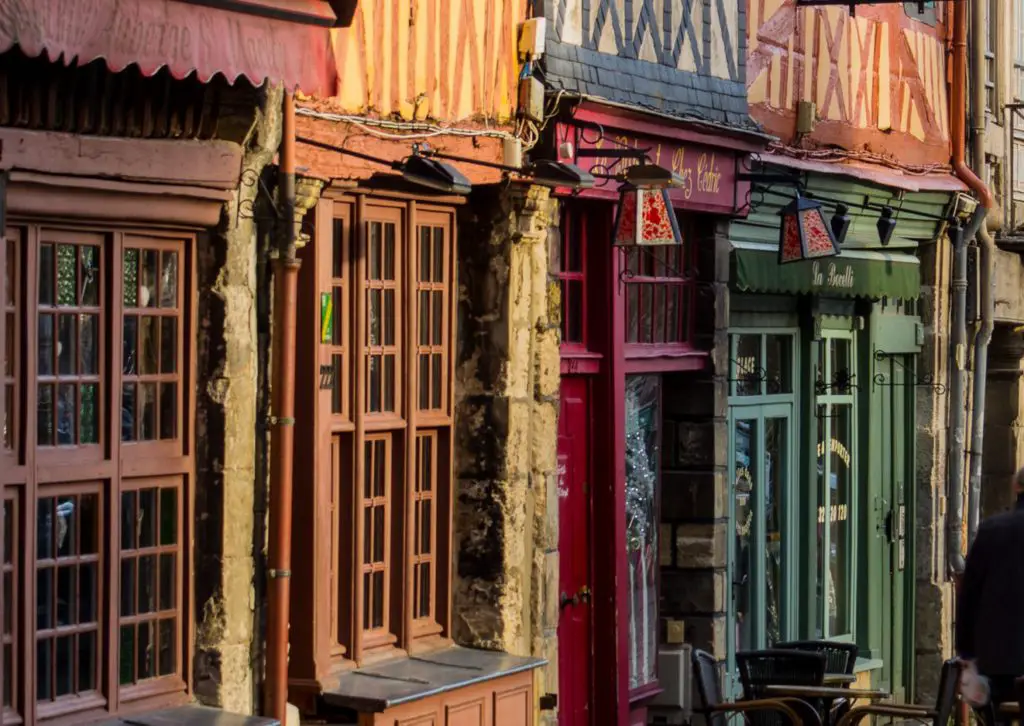 If you are not a seasoned traveler to Europe and you want to see the highlights of a number of cities in a relatively short time without a lot of complicated planning, a river cruise may be just the ticket. A couple from New York City took a Seine River cruise to celebrate their 60th birthdays. "It was a perfect way to get a taste of both Paris and the French countryside," they said, "and visit some important landmarks along the way." Since both have demanding jobs they appreciated that all of the details were organized for them. They didn't have to pack and unpack as they traveled, meals were excellent, and they were able to visit off-the-beaten-path places, like Rouen and Honfleur. That experience allowed them to decide where they would like to spend more time when they return to France.
But think beyond Europe
While European river cruises are the most well-known—the most popular are the Danube; Rhine/Moselle/Main; Rhone/Saone; and the Seine—major cruise lines also offer trips along waterways in Asia, including the Yangtze in China and the Kwai in Thailand. In North America you can cruise down the Mississippi River in the U.S. and the Saint Lawrence River in Canada. Uniworld has an eight-day voyage on the Nile in Egypt that takes in the Temple of Karnak, the world's largest ancient religious complex, and the Valley of the Kings.
The best known European river boat cruise lines (AmaWaterways, A-ROSA, Avalon Waterways, CroisiEurope, Crystal, Grand Circle, Emerald Waterways, Scenic Cruises, Sea Cloud, Tauck, Uniworld and Viking) offer a wide range of packages, depending on budget, length of trip and places to visit.  Many of these lines also run Asian and African cruises.
River cruises are ideal for the single traveler
"If I only had someone to take this trip with, I'd do it in a heartbeat." Does that sound like you?  Rick Kaplan, President of Premier River Cruises, one of the foremost travel agencies in North America for arranging river cruises, puts these people into the category of single travellers who would like to experience river boat travel but think that it is too couples-oriented.  Kaplan has learned from working with thousands of solo travellers over the years that there is no better vacation choice than the river cruise for the following reasons:
River ships carry only about 150 passengers, so you meet everyone quickly.
The environment is much more casual, social, and nurturing than on large ocean ships.
Solo travelers make up about 7% of all passengers on European river cruises. They enjoy the benefits of being with other passengers who share similar ages and lifestyles and who love to travel.
River cruisers tend to be a naturally warm and friendly group who look after each other so solo travelers find they are not really ever traveling alone.
Open dining where no tables are assigned encourages everyone to socialize.
Janice Waugh, the founder of the Solo Traveler Blog , is one of the most widely quoted and respected solo travelers in the world. She had never been on a river cruise before, primarily because she assumed that it would be mainly for couples who would quickly join with other couples for meals and excursions. Premier River Cruises invited Janice to be the guest of Uniworld River Cruises and enjoy an illuminating holiday markets cruise from Vienna to Budapest. She became a convert. Although she still plans to take her budget-minded trips, in her blog post about the trip, The Reluctant River Cruiser, she says, "for people like me who want a holiday on occasion, leaving the work of travel to someone else is appealing."
Mozart? Beer?

Christmas

? There are cruises that focus on these (and other) themes
You can book a themed cruise to pursue your special interests while you travel.  If you are passionate about classical music or the works of the Masters, or if you simply want to sample European beer, there is a cruise for each of these.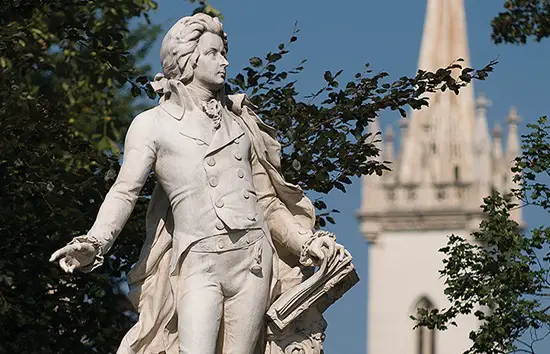 Tauck offers guests a chance to walk in the footsteps of Mozart, Beethoven, Bartók, and Liszt on a 12-day trip that includes a seven-night cruise on the Danube that includes an opera performance in Vienna and music-themed sightseeing throughout the cruise. If you can't resist Christmas markets, Tauck and AmaWaterways have several cruises that visit towns on the Rhine and the Danube that are famous for their holiday markets.
Imagine one of Vienna's most splendid markets—a twinkling tree glowing against the majestic Schönbrunn Palace, with handmade gifts, Victorian-style candy and sweets, candied fruits, traditional gingerbread and cookies, roasted chestnuts, delicious pastries, Christmas punch, mulled wine, piping hot waffles, crepes and sausages, and a local specialty, Vanillekipferl—a light, crescent-shaped biscuit with icing, sugar, vanilla and almonds. AmaWaterways' Christmas Markets on the Danube cruise visits Vienna as well as Nuremburg, Regensburg, and Budapest.  Their Christmas Markets on the Rhine cruise includes visits to Christmas markets in Cologne, Heidelberg, and Strasbourg.
For a taste of haute cuisine, Avalon offers a choice of culinary cruises through Europe. Their "Taste of Normandy" excursion includes a a tasting of cheeses produced at a hillside cheese farm; a pastry demonstration; special crêpes lunch; and food-and-wine-pairings.
If European beers are more your speed, Avalon offers cruises along the Danube and through Holland and Belgium with lectures by local beer experts, on-board tastings, food and beer-pairings, pub crawls, and visits to family-owned breweries.
Many factors influence the price of a river cruise
With the boom in river cruises, the cruise lines have stepped up the number of packages on offer.  Don't expect to find the same bargain prices you'll find on big ocean cruises—river cruises tend to be more exclusive and cater to a smaller number of people.
Destination. Europe is the most affordable destination averaging between $200 and $500 per person, per night. France is the most expensive of the European destinations. Compare this with sailing on the Columbia and Snake rivers in the U.S., starting at $765 per person, per night. However, if you are starting from North America you will save some by taking a domestic instead of international flight. Asian river cruises can cost between $300 and $350 per person, per night, but often include overnight land components that are not included in the boat costs.
Time of year. Mid-May through late September are the most popular months for river cruises, with prices about 15 to 20 percent higher than average. Prices drop during the hot months of July and August. But the best prices will be found in the shoulder season–late March and late fall–when temperatures are colder. Surprisingly, the Christmas market cruises in November and December are priced lower than those during any other time of the year—a gift in itself. The most affordable time of year for an Asian cruise is between June and August. The price of Nile River cruises can fluctuate as much as 25% of the average $500 per person, per night, between the peak demand period between October and early January, and the hottest (and lowest cost) season between May and the end of September.
The outfit you sail with. Industry insiders designate Uniworld, Tauck, and Scenic as the "luxury lines," with an average cost of $519 per night. However, those fees often are all-inclusive, including gratuities and airport transfers—and sometimes airfare. AmaWaterways, Avalon Waterways, CroisiEurope, Emerald Waterways and Viking River Cruises are lower priced, averaging less than $400 per night. Grand Circle, with its high-quality program directors and older ships, is the most affordable. A 16-day "Grand Rivers of Europe" tour on Grand Circle is currently priced at around $225 per night.
Type of cabin. First, some terminology. Cabins are also called staterooms. They are the same thing, so don't get confused. Also, all rooms are on the outside of the boat, which means everyone has a river view. But there is a difference. Riverview cabins have fixed windows and are at river level. They are the lowest-priced. Balcony rooms can
have French or full balcony. Suites, the most expensive rooms, can have French balconies and walkout verandas and usually are located on the upper levels.
Size of cabin. Cabin sizes on a river ship are limited by the narrow width—38 feet is the standard—that's necessary to pass beneath bridges and through canals. The age of the ship also comes into play: Older vessels (generally built before 2009) are 361
feet or less in length; more contemporary ships (generally built after 2010) can be 443 feet long.  Lower cost staterooms (with a fixed window) range from 125–170 square feet in size, balcony staterooms between 160–250 square feet, and suites from 295–600 square feet.
Single supplement. River cruise companies regularly charge a single supplement of 50 to 100 percent for solo travelers who book cabins designed for double occupancy. But solo travel is becoming more popular so discounts or waivers are becoming more common. If you decide to go it alone, Grand Circle is a friend to the solo traveler. They offer low cost ($545 to $995) single supplements, depending on the tour, and sometimes there is no extra fee. Some companies offer a "roommate" program, where a passenger is paired with another solo traveler, thereby cancelling out the single supplement.
Is it better to book with a cruise line directly or use a travel agent?
The lines generally recommend that shoppers check out their websites and then consult travel agents. In many cases, the website will have a link to preferred travel agents within the shopper's zip code. Grand Circle (friend of the solo traveler) only sells its cruises directly to consumers.  The website CruiseCompete can help you get independent travel agencies to compete to offer you the best cruise deal.
River Cruise Prices: A Primer for the First Timer is an excellent article on Cruise Critic that provides even more insight into the river cruise experience.
A typical day tends to be structured—but you decide what you want to do
Most land tours during a river cruise are included in the price of the trip. Since passengers have already paid for the activities, they usually try to make the most of them. To accommodate everyone, cruise lines are very flexible. You can choose excursions based on the pace you are comfortable walking and your preference for group or independent exploration. For example, AmaWaterways has teamed up with Backroads, an active adventure biking, walking and hiking journeys company to offer bespoke tours in each destination. If you don't feel like walking or even getting off the bus, this is fine as well.  Uniworld offers sedate walking tours in each port, and two optional coach excursions further afield.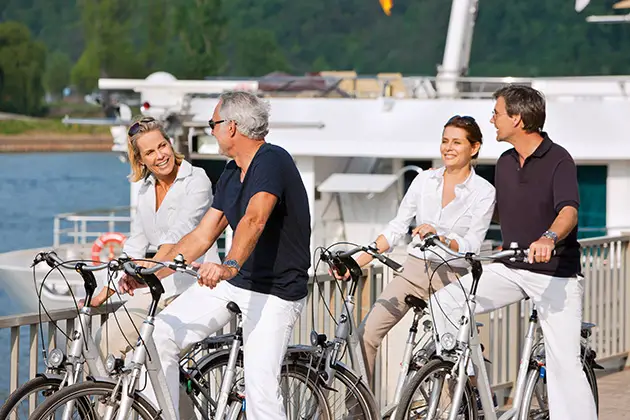 One of our friends from New Jersey took two European river cruises with her 88-year old mother.  There was only one instance, she said, when her mother chose to stay on the bus.  "Otherwise, she was able to keep up with everyone just fine. No one is hurrying you and you go at your own pace."
Shipmates will be kindred souls of a kind
The author of Are River Cruises for You? A Few of the Benefits on the website Landlopers, remarked that "the people I met onboard were active and curious travelers, no matter how old they were.  No one was content to just sit in a chair all day and watch the world float by. And luckily they didn't have to. So regardless of our age, I'd say that almost all of the 189 passengers on board my ship were very similar to me in travel style."
Let's talk about safety
This may seem like an odd point to make but let's face it—accidents aboard cruise ships makes the news. No one wants their vacation to end like that. River cruise lines have been strengthening their safety measures by, for example, requiring everyone to use an access card to board the ship. Other safety measures are on you and your common sense. Ask your ship's crew how they have been trained to react and respond as necessary to any situation should they be needed.  Accidents can occur when docking so be mindful at those times. Admiralty law governs river travel, as well as the laws of the country(ies) in which you are traveling. Read the agreement you sign with the cruise line very carefully. Everyone has a different threshold of risk and each of us must measure the possibility of risk versus the incredible rewards of travel. Most experienced river cruisers would agree that it is "a safe and enriching vacation choice, not to mention always a great value."
Now back to the fun stuff: The food is excellent
Chefs on river cruises prepare meals for the number of people who would typically fill a restaurant in the evening.  They can get fresh, local fare every day when they stop in a town or city.  Although much of the food is served buffet style, it is carefully prepared and reflects local culinary selections.
Consider this opinion from Cruise Critic:  "Meals start with an amuse bouche—one night, a simple presentation of fresh mussels was superb—and moves on to hors d'oeuvres, such as marinated artichoke with cream cheese salad or mushroom risotto. There's always a soup, usually one with Hungarian, Austrian or German roots in a nod to the Danube itinerary, followed by a choice of main courses (fish and meat options). Dessert also offers a choice; there's always a fruit offering and a rather sparse cheese plate in addition to sweets. At the gala farewell dinner, it came as a surprise when wait staff paraded around the dining room with baked Alaska. (We thought that seafaring tradition was limited to big ships.) It turned out to be the best baked Alaska ever."
Entertainment is low key
Most people in our age group will be tired after a full day of tours so evening entertainment is not a big priority.  "Our experience was that most people went to bed around 10:30," said our New Yorker.  "After a full day of walking and tours lined up for the next day, most people just want to turn in after dinner."  One ship has a string quartet in the evening; another the choice of a keyboard player and dancing or some local entertainment. All very low key.  If you prefer Cirque de Soleil-type extravaganzas with noise and lights as you down umbrella cocktails into the wee hours, the night-time tranquility of a river cruise is probably not for you.
What should I wear?
One of the most appealing things about taking a cruise is that you unpack once when you arrive, and repack only when you leave. Still, there are considerations. Obvious factors include the season and destination, whether it is expected to be cold (Danube Christmas market cruise), hot (the Mekong), or somewhere in between (the Seine in June). Days are spent exploring towns and villages, so dress appropriately for the destination (more chic for Paris, casual for Heidelberg). Some ships will have a formal dinner night, but given the limited space in your stateroom you probably won't be packing your ballgown.
Avalon advises, "Don't expect to get all decked out for dinner on a river cruise, but some cruisers like to spruce up their attire for the evening. Using the color-coordinated wardrobe you've packed for daytime, sprinkle in some fun pieces – scarves, shawls, jewelry, stylish shoes. It will eliminate the need to pack separate evening wardrobe but still put an appropriate spin on your daytime attire."
The author of  A Dangerous Business Travel Blog itemized what she packed for a river cruise on the Danube; Packing Tips For A River Cruise on the website 1000traveltips.com is another good place to get more advice.
River levels change with the seasons and can change your experience
Some of the conditions that can affect river cruises are high water levels, low water levels, wind and fog.  When excessive rain raises water levels, riverboats might not be able to sail certain stretches of rivers, either because they no longer can fit under bridges or because flooding makes it unsafe for the ship to moor.  Low water levels are a problem too.  There might not be enough water to float a ship without it grounding. In Europe, low water levels are typically due to a drought and are most common at the end of a hot, dry summer, usually around late September to mid-October.  High water levels typically occur in the spring when mountain snows melt.  You can download the River Cruise Info app or you can visit their website to check on water levels.  The beauty of river cruises is that you can be bussed to your next location if the waters become temporarily impassable.  All cruise lines know what to do in these situations – and it's important to remember that impassable waters are the exception, not the rule.
What if I took the same trip by land?
If you plan your own trip along the same route as a river cruise, you probably will pay much less than what you would spend on the cruise. But you also will spend hours reading guidebooks, renting a car, (getting lost), and finding hotels and restaurants that meet your budget. The advantages of the river cruise include unpacking only once (the ship is your hotel room), having sightseeing tours arranged for you right down to the smallest detail, and having a gourmet meal waiting for you at the end of the day. It all depends on what kind of trip you're looking for.
Top photo courtesy of Uniworld Boutique River Cruise Collection.